There's strength in numbers — literally. While a solo sweat session can be therapeutic and confidence-boosting, we can all get by with a little help from our friends. Whether you thrive in spin class, at CrossFit, on group runs or at the yoga studio, it's easier to feel motivated when you can look to your side and see a fitness buddy who can't stop, won't stop. (It's no secret that working out with a partner or group of like-minded people has numerous benefits!) And if exercising at home is more your speed, commiserating over burpees with your online BFFs can motivate you to push your limits.
But what separates the good workout partners from the ride-or-die fitness besties that have your back, 100 percent of the time? Here are 21 signs you've found your fitness soul mate — er, swolemate.
RELATED: 20 Partner Exercises from the Fittest Couples on Instagram
21 Signs You've Found a True Fitness Buddy
1. The time flies when you're sweating together.
Want to know how to make that HIIT workout easier? You'll get a dose of healthy distraction when you've got a buddy. Robyn Broker, blogger at Run Birdie Run, forgoes her running playlists when she's got a friend to entertain her. "A long run with a running BFF is a multi-hour conversation… Sometimes there's constant chatter and sometimes there's silence, but running completely transforms when it's in a shared space."
2. You don't give in to each other's excuses.
It's easy to tell yourself you can't do another rep. It's harder to tell that to a friend. "When I work out with my boyfriend, we push each other way out of our respective comfort zones," says Lauren Wolman, blogger at Peanut Butter Is My Boyfriend. "Whether he's encouraging me to lift those 10 extra pounds or I'm convincing him that doing seven minutes of planks is a great idea, it's not about competition or proving anything to each other. We're working together to push ourselves further."
RELATED: The 25 Craziest Workout Excuses Trainers Have Ever Heard
3. You'll exercise together, even if you're at different fitness levels.
Think having different fitness levels is a swolemate deal breaker? Think again. NYC-based runner and physical therapist Abby Bales is 30 minutes slower than her 3:04 marathon running buddy, but that doesn't stop them. "My friend has worked out with me through everything — when I had a colostomy bag, after surgeries, when I was pregnant and barely moving, post-partum, and with my son in a stroller," says Bales. "She never makes me feel like I'm not worthy of her fitness company."
4. You'll sacrifice sleep to meet up.
It's tempting to hit the snooze button when you've got a solo workout on tap. But if you know your friend is waiting for you, you're far less likely to bail. "My friend Nina is my accountabilibuddy," says blogger Tracy Davis, who uses the term coined by her November Project workout group. Nina and Tracy made a pact to touch base at 5:45 a.m. to make sure they're both out of bed and ready to go for a run or to the gym.
5. You'll help each other recover properly.
Davis's accountabilibuddy gives her the push she needs to keep her lower body foam rolled and feeling good, too. "She stays on top of me to make sure I'm doing my IT-band recovery work," says Davis of her fitness bestie. We all strive to #NeverMissaMonday, but hey, sustainable workouts are the end goal, right?
RELATED: 7 Reasons to Never Miss a Monday Workout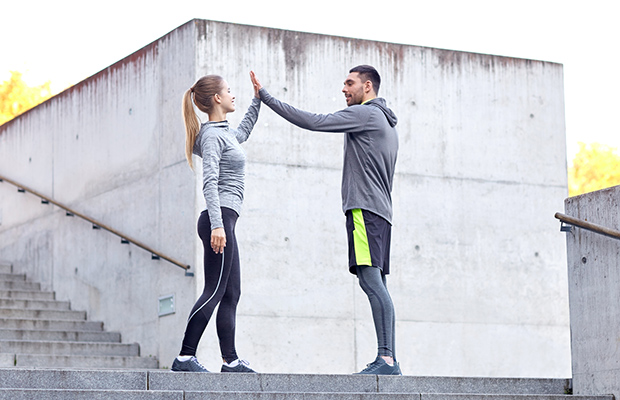 6. You high five or fist bump on the reg.
You don't have to pat your own back when you're done sweating — your friend can do it for you. Even if it's a shaky-armed high-five between push-up sets or a quick fist bump after Tabata, sometimes that classic, old-school form of encouragement is totally more validating than a push notification from your fitness tracker.
7. Their accomplishments are just as exciting as your own.
Whether it's a race, a CrossFit competition, or holding a five-minute plank, training for your own goals is exciting, satisfying and empowering. Watching your fitness friend hit his or her goals, though? Equally if not more awesome. Runner Meggie Smith, blogger at The Thinks I Can Think, was psyched to watch her friend Jocelyn get a marathon PR, and the support is always mutual. "When I saw Jocelyn after I ran a Boston-Qualifying race, the first thing she said to me was, 'Of course you did! I knew you would!'"
8. Things seem less scary when you're together.
While Meghan Conroy's workout bestie liked the front-row-center spot during spin class, 32-year-old Conroy, a senior research analyst in Los Angeles, preferred a less conspicuous seat. But Conroy eventually made her way to the front row. "I became more brave and finally tried the front row because there were two of us, and there was safety in numbers," Conroy says. "That made it less scary."
9. You look forward to your sweat dates, even after a long day.
"By the end of the workday, I'm typically dragging and have zero motivation," says Conroy. But she can't turn down the opportunity to meet up with her fitness buddy. "If I made plans to meet my friend at the gym for a boxing class, I'm going to show up. It gives me something to look forward to all day at the office."
10. You share stuff that would be TMI to anybody else.
Bruised toes, chafing disasters, bathroom breaks gone wrong… you share it all and then some with your partner in crime. True sign of a swole mate? You're not above swapping blister photos to get advice on popping technique.
11. And you know A LOT about each other, in general.
There are things you tell your regular friends, and then there are things you only share with the person you always work out with. "Certain things have become easier to talk about when you're working out with someone and [you've] created a bond," says Lauren Lorow, the NYC community manager at Sweaty Betty, of her friend and former coworker. Whether it's complaining about bosses and coworkers or dishing about significant others, sweaty convos can get serious. "We literally talk about anything and everything," she says.
12. Fitness dates feel like grown-up playdates.
You may not have lifted weights or tried TRX as a toddler, but scheduling an activity with a BFF in tow can make you feel like a kid again. Kyra Rosow, 28-year-old NYC runner and marathoner, says meeting up with her old track teammate before work reminds her of their light-hearted, no-stress grade school days. "It brings back something that is so deeply important to me, and that's not a feeling I get from working out alone."
13. You compulsively "like" each other's fitness status updates and photos.
First like. First comment. First one to compliment your awesome arm definition or stellar downward-facing dog. You know your fitness friend will never not double tap your latest Instagram, especially if you've posted a super sweaty selfie.
RELATED: Need Running Motivation? 20 Epic 'Runspo" Instagrams
14. You'll push through the unthinkable for each other.
Good friends wake up early to meet for workouts. Swolemates do that, and more. "My friend who wasn't training for a marathon promised to run 16 miles with me on a Sunday," says mom and marathoner Jen Correa. After getting home at 5 a.m., the friend still showed up on time and ran the entire distance with Correa. "Not to mention the fact that it was a steamy day in August. Now that's ride-or-die!"
15. Distance can't get between you and your workout partner.
Life happens: Your fitness buddy moves, changes jobs (and schedules), or isn't available for IRL workouts anymore. But you can still motivate each other from afar. "Paul and I are both working full time, are in grad school, and live entire states away from each other," says 28-year-old ultramarathoner Liysa Mendels from NYC. Despite the distance, they keep in touch by sharing training plans, spreadsheets, links and videos.
16. You'd don't think twice about FaceTiming each other during workouts.
Technology enables long-distance romance, and fitness friendship, too. Paul Leak, co-leader of November Project's New York City chapter, FaceTimes with his out-of-town pal Danny during workouts. "It's fun to tell each other how fast we're running or how hard we're working — to try and one-up each other, of course."
17. A visit is never complete without a workout.
You'll make it to brunch and the museums eventually. But first on the agenda: You absolutely must show each other your favorite local workout spots. Sneakers and shorts are obviously packed in your suitcase when you're traveling to your pal's neck of the woods.
RELATED: 9 Things I Wish I Knew Before I Started Running
18. You start showing up to the gym dressed alike. Not on purpose.
The dancing twins emoji has nothing on you and your bud. You know your friendship is serious when you start showing up to workouts in the exact. same. thing. "We don't plan it, but we're constantly showing up wearing the same outfit," says 25-year-old Susie Janik of her fit friend Maggie. "We're just on the same wavelength, about our workouts and beyond."
19. You're there for each other for the good, bad, and downright disgusting.
By the time she reached mile 24 of the Wineglass Marathon, blogger Abbe Baker found herself with a shot at a personal record, but really having to pee. When Baker decided to run and just let it run, her friend "looked over at me and, without hesitation, hosed my backside down with her handheld water bottle," says Baker. Running a marathon together and washing the urine off your legs? That's some serious BFF-dom.
20. You've memorized each other's post-workout snack order.
"I always know Susie is going to get a scoop of mud pie in a sugar cone," says 22-year-old former ice skater and runner Maggie Beaton of her workout BFF. Having a post-workout date gives them a chance to catch up face-to-face, without push-ups. "If we're working out next to each other, we don't get to actually see each other!"
21. You've actually never met.
So maybe you've never met IRL, but no one would know based on your 24/7 interactions on Facebook, Instagram and Snapchat. Whether you share a love of running or dance cardio, or you follow the same workout program online, your daily messages make it feel like you're in this together.