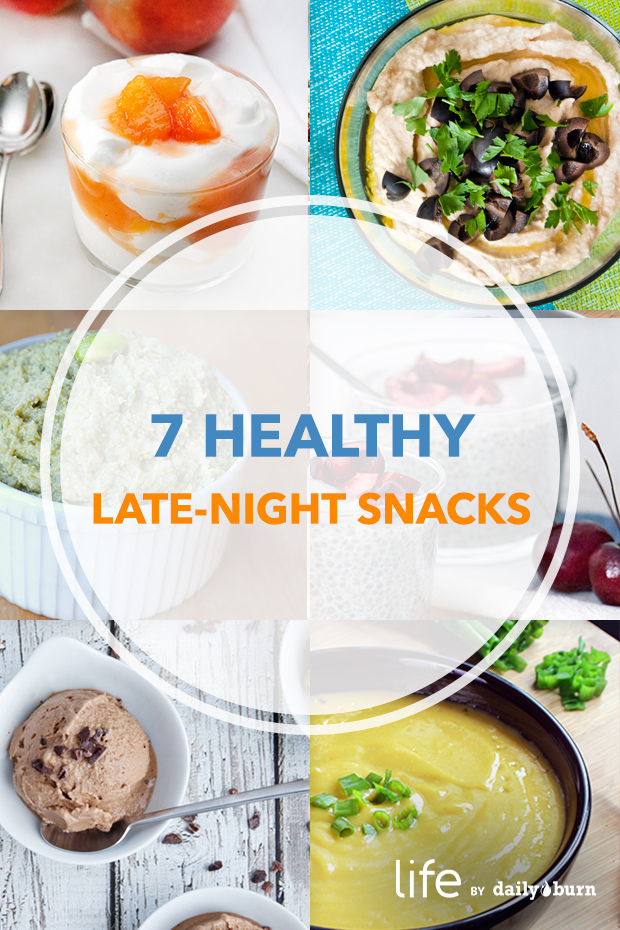 If you find yourself itching for a bite between dinner and bedtime, you're not alone. A recent study suggests that your circadian rhythms are to blame for those p.m. cravings, especially the starchy, sweet and salty kinds. What's more, the researchers found that people who eat more in the evening tend to be overweight. However, not all late-night eats equal weight gain. Some research shows that strategic snacks can help keep you satiated 'til morning — helping you fall asleep faster and stay asleep longer.
RELATED: 9 Gadgets to Help You Sleep Better
So which ones are they? Read on to find the seven best health-conscious snacks to help you hit the hay at night.
7 Late-Night Snacks to Sleep Better
1. Greek Yogurt
According to Lauren Popeck, RD, a dietitian at Orlando Health, Greek yogurt is perfect for bedtime, because it contains the sleep-inducing chemical tryptophan. And because it's such a rich source of protein, Greek yogurt can also help you avoid that same glucose spike.
How to eat it: Try this Homemade Peach Greek Yogurt recipe, which uses real fruit — instead of the processed, corn syrup-covered kind. (Note: You may want to use stevia instead of sugar if you're making this recipe before you go to bed.)
2. Oatmeal
A serving of oatmeal for breakfast is a solid tactic for weight maintenance, but you might be better off having that bowl before you go to bed. "Carbohydrates generally contain nutrients such as B-vitamins, amino acids, potassium and magnesium, which are the most effective for promoting sleep and relaxing the body," says Lisa Moskovitz, RD and founder of New York Nutrition Group. "Choosing whole grains like oats, however, are better for sleep. [Its] high-fiber content and low glycemic index will create a steady stream of glucose in your system throughout the night," she adds. Something sugary, Moskovitz explains, will cause a quick glucose spike that can interfere with sleep quality.
How to eat it: Reap the benefits by whipping up this Savory Steel Cut Oatmeal, which has a slew of veggies for added fiber and a sunny egg on top for a an extra hit of protein, too.
3. Bananas
This sweet, smooth fruit is full of healthy, complex carbs and nighttime-friendly nutrients. "Muscle-relaxing potassium and magnesium, coupled with serotonin-producing tryptophan, make bananas the perfect bedtime snack," says Moskovitz. "Keep them frozen and blend in a food processor to make a cold creamy, dairy-free, treat you can look forward to after dinner."
How to eat it: We love this two-ingredient, paleo-friendly Banana Nutella Ice Cream. Make your own chocolate spread or buy it in jar — dealer's choice!
RELATED: Should You Take a Melatonin Supplement to Help You Sleep?
4. Hummus
Hummus is not only revered for its high fiber content, but also for its healthful, Mediterranean ingredients like garlic and olive oil. And thanks to its tryptophan content, it can also be a part of your sleep-superfood arsenal. "Chickpeas, the foundation of any traditional hummus, are rich in vitamin B6, which is a cofactor in the sleep-inducing, tryptophan-serotonin pathway," Moskovitz says.
How to eat it: Homemade hummus, anyone? Spread this savory snack onto a whole-wheat pita and "you'll be ready to crash in no time," Moskovitz says.
5. Edamame
This traditional Japanese snack, which is high in fiber and protein, also also contain magnesium, potassium and calcium, minerals known to help improve sleep quality, explains Popeck. They'll also calm your muscles, easing you into dream land.
How to eat it: Think outside the box with this Avocado Edamame Dip recipe, which goes great with a few carrot sticks or whole-grain crackers.
6. Sweet Potatoes
Sweet potatoes are another good source of those same muscle-relaxing minerals, which deliver tryptophan to help you hit the sack, notes Popeck.
How to eat it: Bye-bye boring baked potatoes, hello creamy, Fat-Free Sweet Potato Soup! A cup of it before bed sounds perfect, don't you think?
RELATED: How Much Sleep Do You Really Need?
7. Cherries
If you're going to turn to a sweeter bedtime option, choose cherries. "Especially the tart variety, these are one of the few foods that naturally contain melatonin, a sleep hormone that basically tells your body, 'OK it's time for bed.'"
How to eat it: Cherry Chia Seed Pudding, FTW. Whip up the whole batch — four servings worth — and you'll have four nights of sound sleep in the bag.