Meet the new and improved avocado toast. A baked avocado egg has the same creamy warm avocado, but boasts more protein and fewer carbs per serving. It's a great alternative for when you're skipping bread or you're gluten-free.
In this paleo and Whole 30-approved recipe, we spice up the dish by sprinkling the avocado with smoked paprika and serving it with an easy, fresh salsa. (Way better than the jarred stuff you'd buy at the store!) This heart-healthy breakfast is high in omega-3, protein and fiber so you'll feel energized no matter how long your to-do list might be.
RELATED: 7 High-Protein Breakfast Hacks (No Stove Required)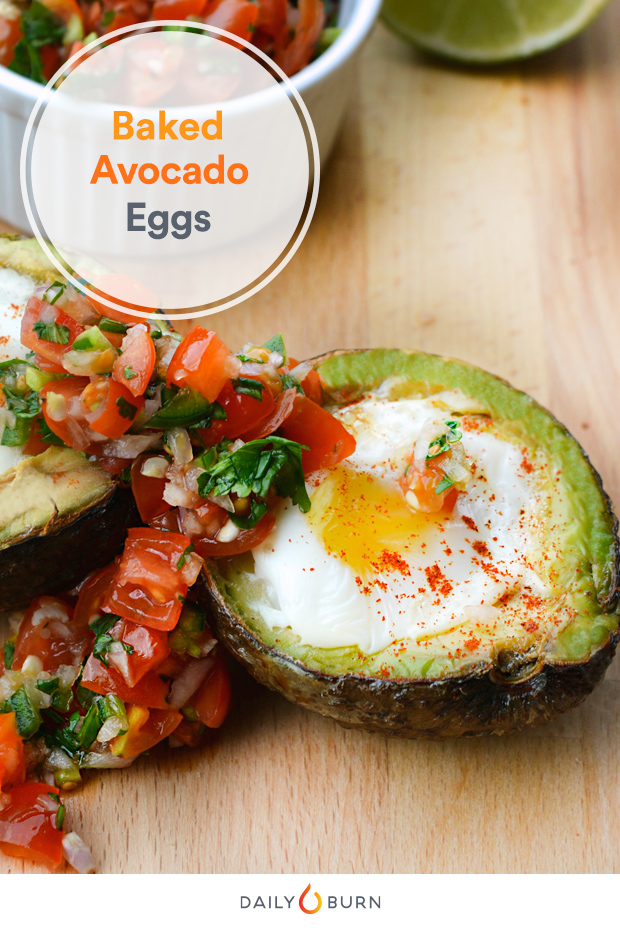 Baked Avocado Egg Recipe
Serves 2
Prep time: 30 minutes
[skinnybox]
Ingredients
1 avocado
2 eggs
Pinch of smoked paprika
3/4 cup chopped tomatoes
1/3 cup diced red onion
1/4 cup chopped cilantro
1 tablespoon chopped jalapeno
1/2 tablespoon lime juice
Salt and pepper
Preparation
Preheat oven to 425° F.
Cut the avocado in half and remove the pit. Using a spoon, scoop out some of the avocado flesh to make the hole bigger.
Place the avocado halves in a muffin tin to stabilize and sprinkle with a pinch of smoked paprika. Crack an egg into each of the avocado halves and bake in the oven for 15 to 20 minutes.
While the eggs are cooking, make the salsa by dicing up the tomatoes, cilantro, red onion and jalapeno. Toss in a bowl along with a pinch of salt and the lime juice.
The avocado are ready once the whites of the eggs have set. Season with salt and pepper and serve toped with a heaping spoonful (or two tablespoons) of salsa.
For more recipes from Carmen, visit everylastbite.com.