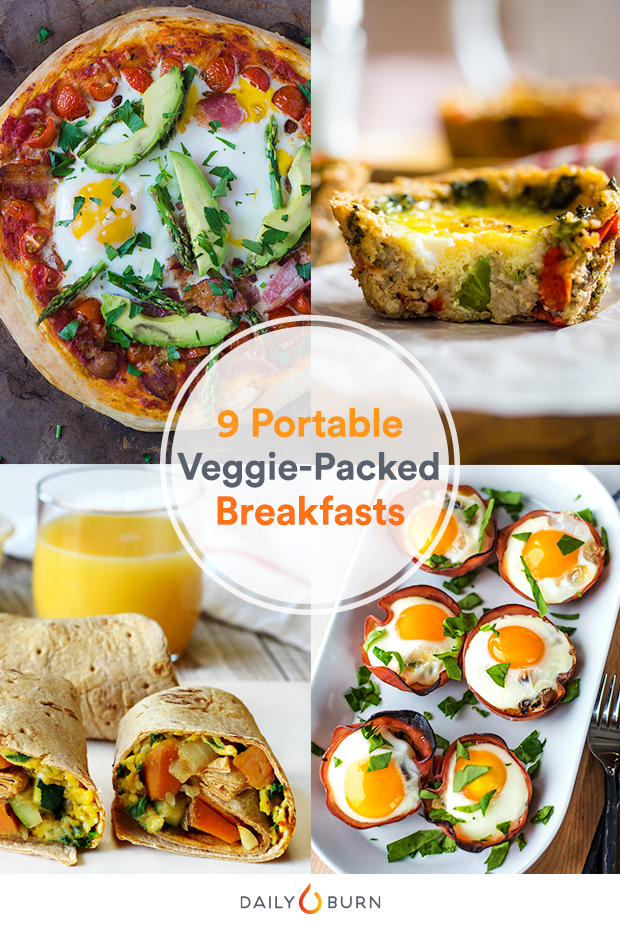 If you're like most Americans, you probably rush out the door in the morning with zero time to make a hearty breakfast. Even if you have a go-to overnight oats recipe you eat at your desk, we're guessing there's still one thing missing: vegetables. About 87 percent of Americans don't get the recommended serving of two to three cups of veggies a day. But why not start your morning out right?
We rounded up nine breakfast on-the-go recipes that solve your morning meal problems. The delicious dishes are easy to transport, and they sneak in about one serving of veggies a piece. Here's to getting in your vitamins well before noon.
RELATED: How Bad is Your Breakfast Food? We Ranked 10 Popular Items
9 Veggie-Packed Breakfast On-the-Go Recipes

1. Savory Breakfast Egg Muffins
Portable and packed with protein, these mini egg muffins include ham slices, mushrooms, bell peppers and spinach. But feel free to sub in your preferred produce. Prep a big batch and you're set for the week. All you need to do is toss 'em in the microwave when you're ready to eat. Photo and recipe: Alexa Schirm / Life by Daily Burn

2. Sweet Potato Breakfast Burritos
Filled with potassium-rich sweet potatoes, nutritious spinach and fiber-friendly zucchini, these yummy burritos will definitely keep you full until lunchtime. Make a few on your meal prep day and they'll easily freeze for the rest of the week or month. Photo and recipe: Kim / Kim's Cravings
RELATED: 20 Meal Prep Tips from the Best Preppers We Know

3. Ultimate 4-Layer Vegan Sandwich
You're probably thinking, sandwich for breakfast? But once you taste how good this is, you'll want it for every meal. The homemade hummus and pesto puts it on another level of delicious, while avocado adds creaminess. Throw on lettuce for some crunch, too. Photo and recipe: Angela Liddon / Oh She Glows

4. Egg Muffins with Savory Oatmeal Vegetable Crust
Oatmeal like you've never seen — or tasted! Old fashioned oats get a savory flavoring thanks to broccoli, red pepper and onions. After baking for just 30 minutes, the oats also turn into the perfect cup for scrambled eggs. The best part: Each muffin has only 81 calories. Photo and recipe: Taylor / Food Faith Fitness
RELATED: 5 Meal Planning Tips from the Nutrition Stripped Cookbook

5. Gluten-Free Breakfast Burrito
A crepe turned burrito! This dish includes a pancake-y wrap that's filled with kale, mushrooms, sweet potatoes, onions and bacon. In other words, you'll get tons of B vitamins, selenium and potassium. They'll also store in the fridge for up to a week and the freezer for up to two months. Photo and recipe: Alexa Schirm / Life by Daily Burn

6. Omelet Waffle
Get more use out of your waffle iron and whip up an omelet in a cinch with this recipe. It calls for eggs, milk and your favorite veggies. Hint: The more produce you add, the better it tastes. For breakfast in a pinch, cook this up the night before, so you can simply heat it and eat it the next day. Photo and recipe: Kirbie / Kirbie's Cravings
RELATED: Egg Whites or Whole Eggs: Which Are Healthier?

7. 100-Calorie Cheese, Vegetable and Egg Muffins
Like an omelet in muffin form, these delicious bites contain 13 grams of protein. Packed with carrots, bell peppers, peas and corn, you'll taste the produce in every bite. Pro tip: You can buy canned varieties to go easier on your bank account. Plus you can make them once and eat all week. Photo and recipe: Averie Sunshine / Averie Cooks
RELATED: 50 Resources That Make Meal Prep a Snap

8. Breakfast Pizza
Ever have cold, leftover Dominos for breakfast? Well, here's the healthy version you can munch on the move. Buy a pre-made whole-grain crust or borrow from one of these homemade low-carb recipes. The asparagus, avocado and cherry tomatoes provide your veggies for the day, while offering fiber and vitamins. And to up the satisfaction factor: a hit of cheese and bacon. Photo and recipe: Brita Bitnell / B Britnell

9. Green Monster Vegan Overnight Oats
Everyone needs more leafy greens in their life — and this oatmeal upgrade includes plenty. Combine a green smoothie with rolled oats, let it sit overnight and you get a delicious, uber-healthy morning meal to take on the go. Even better, this recipe calls for chia seeds, which deliver fiber, protein and omega-3 fats. Top it off with coconut, nut butter or fruit to make it even more delightful. Photo and recipe: Angela Liddon / Oh She Glows