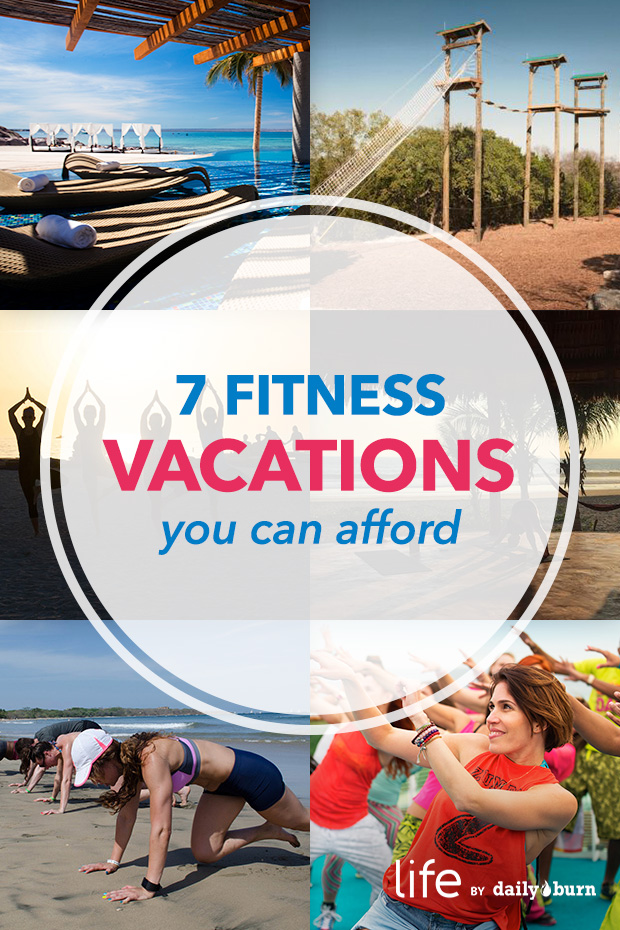 Raise your hand if you need a vacation! With winter on the way, it's officially time to start fantasizing about your next getaway. While there's nothing like an all-inclusive resort, it's easy to leave those trips a few pounds heavier than you were before. (We blame the buffets.) That's why we're all about the seemingly endless number of new retreats emphasizing fitness over feasting.
The problem: Many wellness trips aren't exactly cheap. So we combed through the options and found seven fitness-centric vacations that all clock in at less than $2,000 per stay. Pro tip: Get your travel buddy on board — most packages offer their best prices to duos. Plus, the cost of coming back from vacation feeling better than you did before: Priceless.
RELATED: From Day Hikes to Kilamanjaro: Why Women Are Hitting the Trails
7 Fitness Retreats That Won't Totally Break the Bank
1. Ketanga's Fitness Focus 2016
Location: Tamarindo, Costa Rica
Cost: $1,450 per person, shared room
Dates: January 14-18, 2016
CrossFit lovers will be in their element during this HIIT-tastic retreat. Led by CrossFit Coach Chris Sainsbury, the workouts feature Cross-Fit style WODs (minus the heavy weights). Your once or twice-daily sweat sessions will be followed by activities like surfing, mountain biking, horseback riding — or simply lounging by the beach or pool. Prepare to return from your trip having worked muscles you never even knew existed — and feeling better than before.
RELATED: 5 CrossFit Workouts That Will Kick Your Butt
2. Ink 48's ThINK Fit Package
Location: New York, NY
Cost: $800 for two nights, based on double occupancy
Dates: Any
It's urban wellness at its finest. Book this deal and you'll be greeted with basket of seasonal fruits, KIND Bars, SUJA Juices and teas upon arrival. Start each day with free fresh juices, followed by complimentary sessions at a Bikram Yoga studio nearby. (Here's how to get the benefits of hot yoga without passing out.) Feel like pounding the pavement? Get access to the Runner's Amenity Kit, stocked with a pre-loaded iPod shuffle, earbuds, water belt, running maps and heart rate monitor. Bonus: Two customizable spa treatments are included and each room comes with a yoga mat that you can take home at the end of your stay.
RELATED: The 50 Best Half-Marathons in the U.S.
3. Yoga for Bad People's Mexico Retreat
Location: Zihuatanejo, Mexico
Cost: $1,575, shared room
Dates: February 6 – 13, 2016
Peaceful twice-daily yoga sessions are followed up by a healthy dose of partying at YFBPs fun-packed retreats. You'll enjoy your asanas with a side of morning meditation at this beautiful beachside resort, where breakfast, lunch and dinner (cooked by personal chefs!) is included daily. Pimp out your trip with additional outings for surfing, horseback riding, stand up paddleboarding or bike riding.
RELATED: 3 Yoga-Inspired Ab Moves You've Never Seen Before
4. Zumba Cruise with Royal Caribbean
Location: Falmouth, Jamaica and Labadee, Haiti
Cost: Starts at $644
Dates: January 25 – 30, 2016
Can't get enough Zumba in your life? The first-ever Zumba Cruise sets sail from Fort Lauderdale at the end of January, featuring Zumba-themed classes every day, led by the 130 instructors on board. Even cooler: Zumba creator Beto Perez will lead "Unplugged" classes completed with live music and DJs. You'll visit the beaches of Jamaica along the way, followed by a stop in Haiti, where you can show off your dance skills at a live concert featuring some of the Caribbean's most popular artists.
RELATED: 5 Ways to Feel More Like Beyoncé in Cardio Dance Class
5. Ketanga's Running & Yoga Retreat
Location: Bridgetown, Barbados
Cost: $1,300, shared room
Dates: April 28 to May 2, 2016
This vacation is every runner's dream. Start your days with speed and endurance-focused running workouts, followed by sunset yoga each night. In between, you'll participate in local activities — like swimming with sea turtles. When you're not relaxing in the sun post-workout, visit the Mount Gay rum distillery for a few much-needed tropical drinks. Breakfast is included every day, as well as select lunches and dinners throughout your stay.
RELATED: The 11 Best Running Camps in the U.S.
6. Travaasa Austin
Location: Austin, Texas
Cost: $500 per night, all-inclusive; $275 per night a la carte
Dates: Any
Build your own wellness retreat with an all-inclusive stay at Travaasa Experiential Resorts in Austin. It's hard to go wrong with options like hiking, archery, ropes courses and even a culinary class called Juicing 2.0 (all recipes have five-ingredients or less!). Mix up your workouts with a Texas Two-Step or Roping class to get a taste of the local culture. Your mental health might get a boost, too, with plenty of options for seminars on Work/Life Balance, Stress Solutions and Meditation.
RELATED: How to Get Good at Stress (And Make It Work in Your Favor)
7. Ultimate La Paz Adventure Retreat at Costa Baja Resort and Spa
Location: La Paz, Mexico
Cost: $1499, double occupancy
Dates: January 7 – 11, 2016
If you've got a serious case of SAD, you'll be happy to know that the town of La Paz, Mexico enjoys 340 days of sunshine each year. Daily yoga, meals and drinks are all included, plus you'll get the opportunity to partake in adventures ranging from swimming with whale sharks and sea lions to fishing to hiking the Laguna Mountains. The package includes open bar for the duration of your stay — and we won't tell if you indulge.