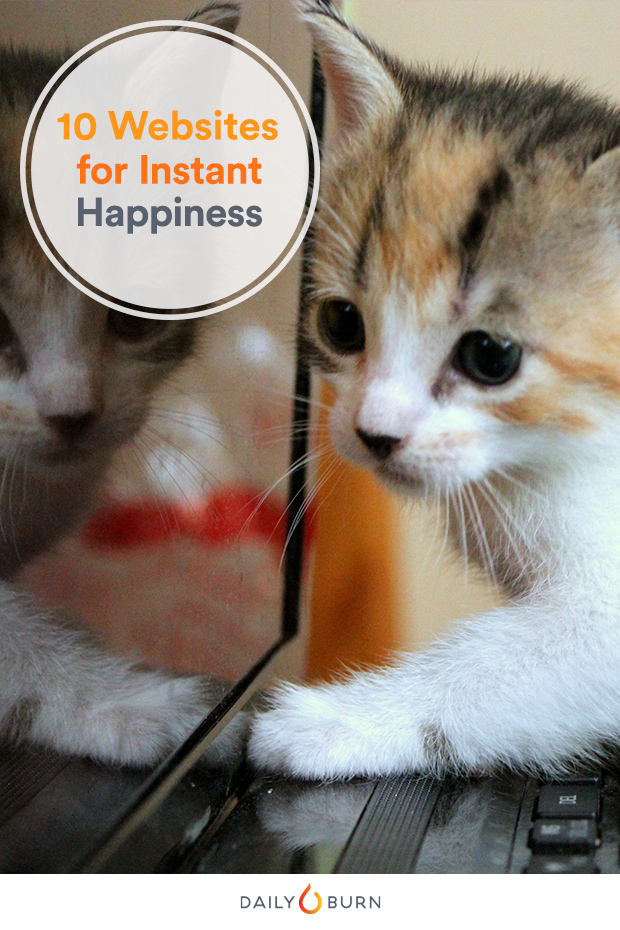 Real talk: Being happy all the time (especially at the office) can be a bit of a challenge for even the happiest of folks. Whether it's a case of the Monday blues, that Q4 report or just the stress of a jam-packed schedule that's weighing you down, it's difficult to muster up a smile when you're not feeling great. And research from Stanford University confirms that depressed workers are far less efficient than their happier counterparts.
RELATED: 9 Netflix Picks That'll Be Sure to Inspire You
The good news is you can cheer yourself up (and chill out!) without stepping a foot from your cube. All you need is one of these 10 sites, designed to bring you joy, even if just for a second. Some will make you be more introspective, some will teach you new behaviors and some will simply make you LOL. And after all, isn't a good LOL just what we need sometimes? On National Relaxation Day, it's the perfect way to get calm.
10 Sites to Browse for a Happiness Break
1. The Nicest Place on the Internet
There's nothing like a good hug, right? And while you may not wanna hug your boss for support, this site provides the virtual squeeze you're looking for with a continuous video stream of — you guessed it — strangers reaching out with a hug.
2. TED
TED, which stands for technology, entertainment and design, was founded in 1984 as a one-off event for thought leaders in those respective industries. Fast forward to 2015, and now the site features over 1,900 TED Talks, all with the goal of "spreading great ideas," which are available to stream au gratis. When you're feeling down, check out "The Surprising Science of Happiness," which will challenge your thoughts on the feelings of joy, leaving you empowered to create your own definition of happiness.
RELATED: 5 Ways to Banish Negative Self-Talk for Good
3. America's Next Weatherman
In case you missed the memo, local television weathercasters have been living in the meme spotlight ever since Will Ferrell suited up for Anchorman in 2004. Thankfully, FunnyorDie.com got the memo as well — and the America's Next Weatherman web series was born. "These ridiculous weather reports are sure to put a smile on your face," says Nikki Martinez, a psychologist with the e-therapy service BetterHelp.
4. Happify
Take a look at your own happiness from a different angle with this app. Specifically, look at it as a skill set, and one you can improve, too. Follow one of Happify's "tracks," or mini-courses, which will guide you through various activities such as a gratitude check-in or a positive word-spreading game. The free version lets you play a few games a day, but pay up to $13 a month and you'll get everything.
RELATED: 8 Signs You're Way too Stressed (And How to Deal)
5. Emergency Compliment
"Hey, you over there: You are freakishly good at thumb wrestling." That's just one of the countless, random "emergency" compliments this site will throw your way with just a click. Because when it feels like nothing's going the way you planned, any compliment will do.
 6. Happier
Tune out any negativity by plugging into Happier, a social network created so you can share the everyday moments in life that bring you joy — and hopefully make someone else crack a smile while you're at it. The site offers mini-courses and coaching services, but it's sharing the random moments that really give us that instant boost when we need it most.
RELATED: 17 Ways to Get Back to Being Happy
7. Make Everything OK
Remember when you were a kid and something was wrong and your mom would tell you "Everything is going to be OK," and maybe give you a cookie? Good times. And while this site is no substitute for mom, it is oddly cathartic to hit the "Make Everything OK" button and watch "the download" progress.
8. Happy Now
This iOs-only app helps you track habit change — specifically habits that'll make you feel better about yourself — concretely. Pick up to six goals, such as eating healthy, then track not only what you eat, but how you feel after everything you eat, too. Super-specific, quirky and slightly sassy affirmations follow: "You feel good when you eat broccoli" is just one example of a reminder. And the more you use Happy Now, the more precise (and silly) the affirmations become on the path to achieving your goal.
RELATED: 22 Simple Streps to a Healthy, Happy Morning
9. Action for Happiness
A nonprofit org, Action for Happiness brings together expert psychologists, economists, educators and social innovators to help people create a more positive and happier society. They do this through both small efforts, like teaching individuals to find three good things from each day, as well as larger-scale initiatives. "I frequently recommend this site to patients," says Dr. Jessamy Hibberd, a clinical psychologist based in London and author of the This Book Will… series of self-help books.
10. CuteOverload.com
A ton of cute dogs and cats — need we say more?