Getting into the holiday spirit doesn't have to mean imbibing in calorie-laden eggnog. The traditional drink can be made skinnier by swapping skim milk for cream, reducing the egg count, and cutting down on sugar. Our gift to you this holiday season: a healthier, high-protein, low-fat, low-carb eggnog that's still rich, creamy and as festive as ever.
RELATED: 15 Cocktails Under 150 Calories (and Better Than Vodka-Soda)
Low-Fat Eggnog Recipe
Serves 4
Active time: 20 minutes (plus 4 hours chill time)
Ingredients
2 cups skim milk
1/2 vanilla bean, split and scraped
2 large eggs plus 1 egg yolk
1/4 cup fat-free sweetened condensed milk
1/2 teaspoon cornstarch
1/4 teaspoon freshly grated whole nutmeg (plus more for garnish)
1/8 teaspoon salt
1/4 cup white rum or bourbon (optional)
Preparation
In a medium saucepan, bring 1 1/2 cups of the milk and the vanilla bean pod and seeds to a simmer over medium heat. Meanwhile, whisk the eggs, egg yolk, condensed milk, cornstarch, nutmeg and salt in a medium bowl until light yellow.
Gradually pour the hot milk mixture into the egg mixture, whisking constantly, then pour it back into the pan. Stir constantly over low heat with a wooden spoon until the eggnog begins to thicken, about 10 minutes.
Remove from the heat and immediately stir in the remaining 1/2 cup of milk. Transfer the eggnog to a pitcher; cover and refrigerate for at least 4 hours or overnight.
Remove the vanilla pod. Spike the eggnog with alcohol if desired, and garnish with freshly grated nutmeg.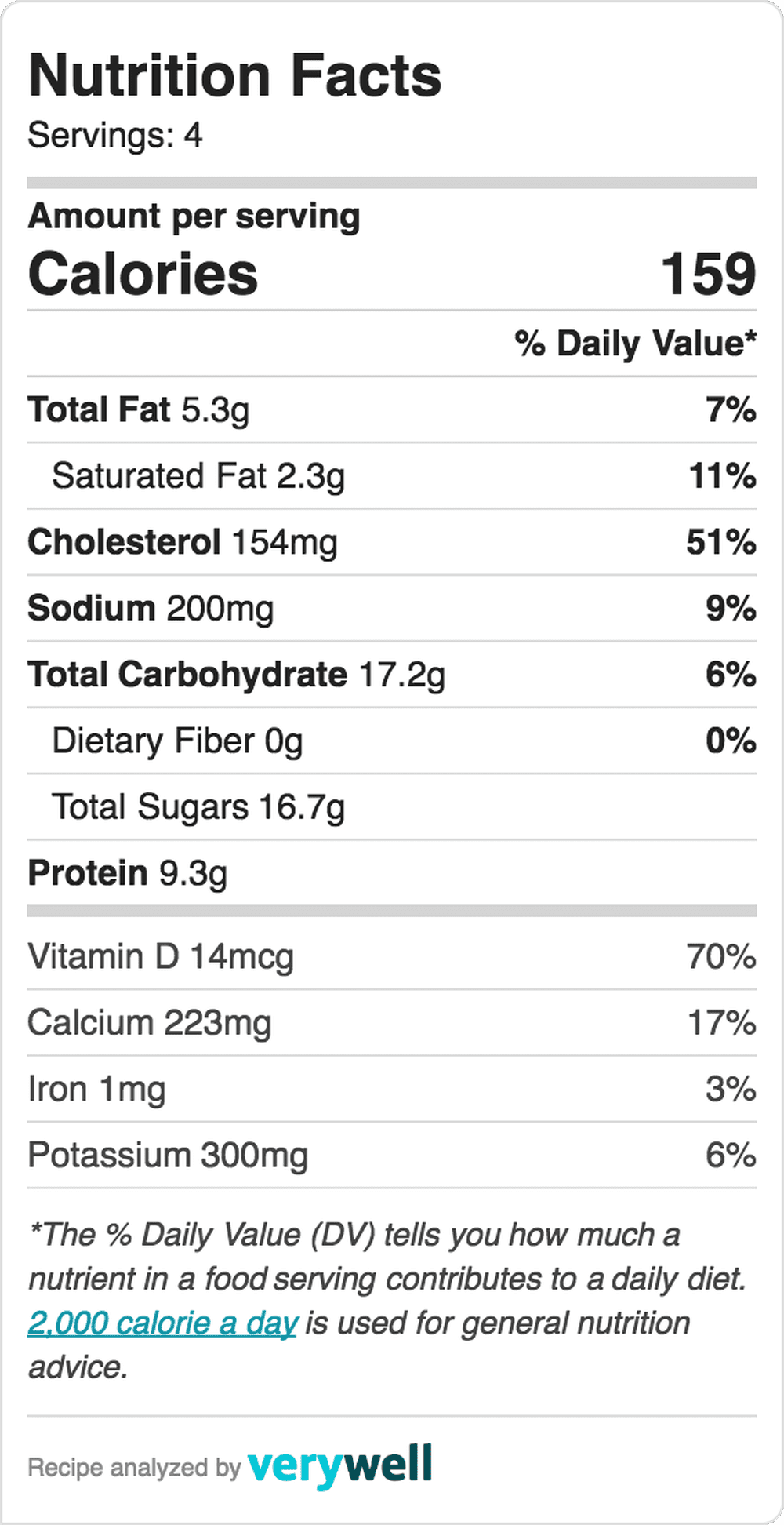 Originally published December 2016. Updated December 2017. 
Read More
14 Holiday Cookie Recipes Under 100 Calories
9 Healthier Starbucks Swaps for the Holidays
13 Healthier Takes on Your Favorite Holiday Cocktails