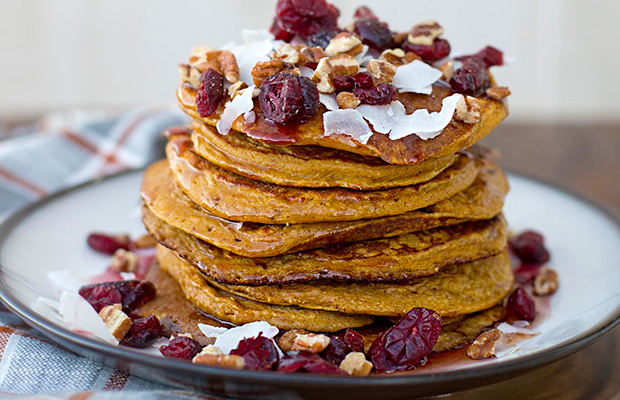 Since we've got a surplus of sweet potatoes hogging our counter space this fall, we decided to see if there was a way to sneak the orange vegetable into our flapjacks. The result? A hearty, savory breakfast that keeps us energized for hours. Hidden inside the sweet potato pancakes batter, cottage cheese adds a tangy flavor that complements the sweetness of the 'taters, plus it provides a mega dose of protein. Each serving (approximately six silver dollar pancakes) has 16 grams of protein, or the amount you'd get from roughly three scrambled eggs.
Best of all, this sweet potato pancakes recipe comes together in just 10 minutes flat. Pro tip: Keep this recipe handy and use it to transform your leftover mashed sweet potatoes from Thanksgiving. (Looking for more leftover inspiration? Try these inventive recipes for repurposing what's left after Turkey Day.)
RELATED: 10 Delicious Protein Pancake Recipes
Easy Sweet Potato Pancakes Recipe
Serves 4
Serving Size: 6 silver dollar pancakes
Prep Time: 5 minutes
Cook Time: 10 minutes
[skinnybox]
Ingredients
1 cup cottage cheese
1 cup sweet potato puree (or leftover mashed sweet potatoes)
1 cup old fashioned oats
5 large eggs
2 teaspoons pumpkin pie spice
1 tablespoon maple syrup
Optional:
Cranberries
Flaked coconut
Maple syrup
Chia seeds
Mixed berries
Preparation
Place all ingredients in a blender and puree until smooth.
Place a nonstick griddle or large nonstick frying pan over medium heat, coat lightly with cooking spray. Pour batter in 1/4-cup portions onto griddle, repeating until the pan is filled.
Cook until you start to see bubbles form, and edges begin to look dry. (About 2 minutes.) Using a wide spatula, flip your pancakes and cook them for another minute or until golden brown on both sides. Repeat until all batter has been used.
Serve pancakes as they're cooked or keep warm in a single layer on baking sheets in the oven. Top with cranberries, maple syrup or your favorite pancake topping.
Pro Tip
You can use fresh mashed sweet potatoes, baked sweet potato with skin removed or canned. The sweet potato doesn't have to be finely pureed as you are mixing all ingredients in a blender and this process will make it smooth.
For more recipes from Alexa, visit Simple Roots Wellness.