Good news: Pancakes are no longer carbohydrate-laden belly bombs — they're getting a healthy makeover with high-protein ingredients. Whether it's Greek yogurt, cottage cheese, almond flour, or protein powder, switching up the basic ingredients can give this breakfast favorite a much healthier nutritional profile. The protein pancake recipes below contain at least nine grams of protein per serving, with some hitting upwards of 38 grams (we're looking at you, cinnamon roll pancakes). Happy flipping!
RELATED: 11 No-Bake Energy Bites Recipes
11 Delicious Protein Pancake Recipes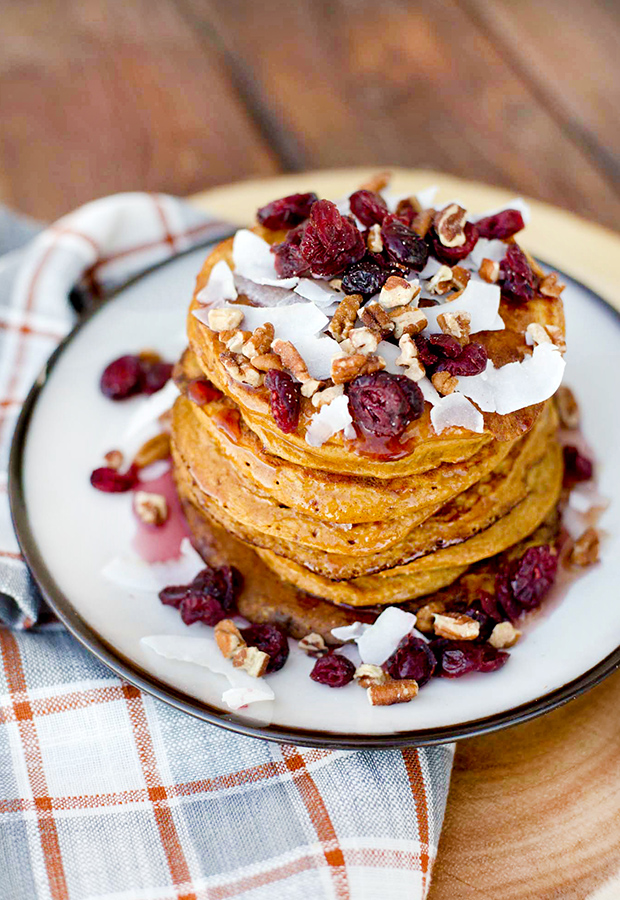 Get your fix of nutrient-rich sweet potatoes and have your protein, too. Hidden inside the batter, cottage cheese helps these silver dollar pancakes clock in at 16 grams of protein per serving (roughly how much you'd get from three scrambled eggs). And then there's the convenience factor, which has 'em on your plate in 10 minutes flat. Impressed? Us, too. Photo and Recipe: Alexa Schrim / Life by Daily Burn 
RELATED: 9 Healthy Breakfasts Ready in 15 Minutes or Less
Pumpkin gets extra love each fall — but you can taste the benefits any time of year. These flour-free pancakes deliver a protein-packed breakfast, thanks to one scoop of protein powder, real pumpkin and oats. Add egg whites and baking powder and they're ready for lift-off. Photo and Recipe: Katie Farrell / Dashing Dish  
The protein in these pancakes comes from three eggs and a half-cup of cottage cheese. A quarter-cup of flour holds it all together, and vanilla extract and coconut oil give the cakes a unique — and crave-worthy — flavor. Top with fresh fruit, your favorite nut butter or Greek yogurt for a well-rounded meal. Photo and Recipe: Emma / Better with Cake
RELATED: 15 Guilt-Free Mug Cake Recipes
These pancakes get their dose of protein from an unexpected source: quinoa. In addition to lending protein, the quinoa creates a great slightly crunchy, slightly chewy texture without losing typical pancake fluffiness. Top with fresh berries and fruit syrup. Photo and Recipe: Kayley / The Kitchen McCabe
Low-carb pancakes packed with protein and fiber — need we say more? Two of these cakes provide 11 grams of protein and nine grams of fiber, which comes primarily from the half-cup of coconut flour and six eggs in the recipe. All that great Almond Joy flavor is thanks to almond extract and (of course) dark chocolate. Fry them up in coconut oil for a slightly sweet crunch. Photo and Recipe: Carolyn / All Day I Dream About Food via The Lemon Bowl
RELATED: 11 Unexpected Protein Powder Recipes
Instant oats, vanilla protein powder, egg whites and Greek yogurt make up the protein-packed base of these decadent (but healthy!) pancakes, while banana and cream cheese create a decadent flavor and texture. Whip up this batter at night and store in the fridge before cooking in the morning for a quick and filling hot breakfast. Photo and Recipe: Claire / The Slender Student
These peachy cakes bring the taste of summer into your kitchen. Oat flour, coconut flour and vanilla protein powder combine for the base of these fruit-filled cakes. Peach-flavored Greek yogurt, diced peaches, coconut and almond extract add sweetness, a bit of texture, and fresh flavors to the mix as well. Top with freshly toasted coconut, roasted almonds and fresh, diced peaches for an even more exciting dish and varied texture. Photo and Recipe: Heather Powers / Kiss My Broccoli  
RELATED: 15 Dessert Recipes Under 150 Calories Each
Nuts for coconut? These vanilla and coconut-scented pancakes are made from spelt flour, almond meal and protein powder. Chia seeds add a bit of texture and a healthy kick of omega-3 fatty acids. Top with a mix of Greek yogurt and maple syrup and toasted coconut. Photo and Recipe: Karla / Foodologie
At 21 grams of protein per serving, these pancakes are the perfect way to start any morning off right. In addition to fulfilling even the most persistent of chocolate cravings, these babies are dairy-free, gluten-free and soy-free. Add an extra dose of protein by topping with a scoop of your favorite Greek yogurt. Photo and Recipe: Perry Santanachote / Life by Daily Burn
RELATED: 7 Quick and Easy Paleo Pancake Recipes
It can't get more simple than these whole-wheat Greek yogurt pancakes: Just combine Greek yogurt, an egg, whole-wheat flour and baking soda, mix it up, and cook in a skillet. Add whatever flavors you like, and choose your favorite toppings. (We're big fans of fresh berries or banana!) Photo and Recipe: Ali / Veggies by Candlelight
Greek yogurt and vanilla protein powder put the "pow" in these protein pancakes. Oats give the cakes some body, while customized toppings add an irresistible peanut-buttery-banana-chocolaty flavor. Prefer other fixins? Use the basic recipe and top with whatever your heart desires! Photo and Recipe: Erin / Dinners, Dishes & Desserts
Originally published April 2014. Updated December 2016.