Real talk: Dry and lifeless chicken breasts make us want to hurl our lunches into the trash and order takeout, stat. If eating something that tastes like sandpaper isn't your thing, we don't blame you. Even if you have some go-to seasoning secrets, cycling through the same rotation of chicken breast recipes can get tedious. It's time to take a stand against bland!
Three ounces of chicken packs roughly 25 grams of protein, so there's good reason to make this lean meat a staple of your healthy diet. And luckily, there are plenty of ways to prepare your bird that won't bore your taste buds. A plain chicken is just a blank flavor canvas waiting for you to create a finger lickin' good meal! Need foodspiration? Check out these 30 scrumptious and healthy chicken breast recipes that aren't short on flavor. Grilled, sautéed, baked, shredded or cooked in a crockpot, there's something for everyone.
RELATED: 15 Genius Meal Prep Ideas from Top Trainers
30 Inventive Chicken Breast Recipes
Satiating Salads
1. Kale Chicken Caesar Salad Recipe
Caesar salads can be a sneaky dangerfood packed with cheese, carb-heavy croutons and thick, fat-laden dressing. That's why this lightened up chicken-and-kale creation should find its way into your weekly lunch rotation. Shocker: The dressing is still as creamy, but with a sinless Greek yogurt and Dijon mustard base. Photo and recipe: Perry Santanachote / Life by Daily Burn
RELATED: 9 Mason Jar Salad Recipes for Healthy Lunches
2. Curried Chicken Salad
Slash calories and fat while still keeping the delicious texture, flavor and richness of a classic chicken salad in tact. This version opts for creamy nonfat Greek yogurt as the base (you won't even miss that full-fat mayo). Plus, you'll get a perfectly sweet and savory combo, thanks to the addition of granny smith apples, raisins, sliced grapes and a hit of curry powder. Photo and recipe: Perry Santanachote / Life by Daily Burn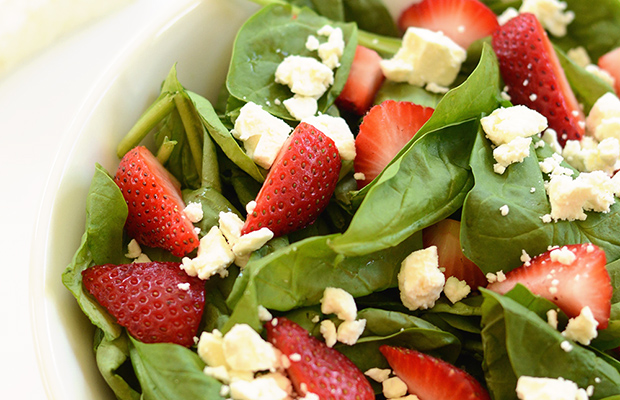 3. Strawberry, Spinach and Grilled Chicken Salad
This one tastes like summer — whether you're at the height of the season, or just craving to go back to those warm, carefree months. And this recipe is just as easy-breezy, with total cook time of 15 minutes flat. Healthy and happy, stat! Photo and recipe: Lee Hersh / Life by Daily Burn
4. Lemon-Dijon Chicken Salad with Pomegranate and Almonds
Move over, mayo. This version of chicken salad has plenty of zest but much less fat than your average batch. Wrap up your creation in Bibb lettuce or sturdy collard greens, rather than bread, for a light and filling lunch. Photo and recipe: Serena / Domesticate Me
RELATED: 30-Minute Meals for Quick, Healthy Dinner Ideas
That's a Wrap
5. Asian-Style Chicken Lettuce Wraps
Inspired by Szechuan lettuce wraps you might find at a Chinese restaurant, this rendition has equally bold flavor but with fewer than 400 calories per serving. In each bite, you'll get shredded chicken sweet bell peppers and snow pea pods — plus the irresistible crunch you crave. Photo and recipe: Alexa Schrim / Life by Daily Burn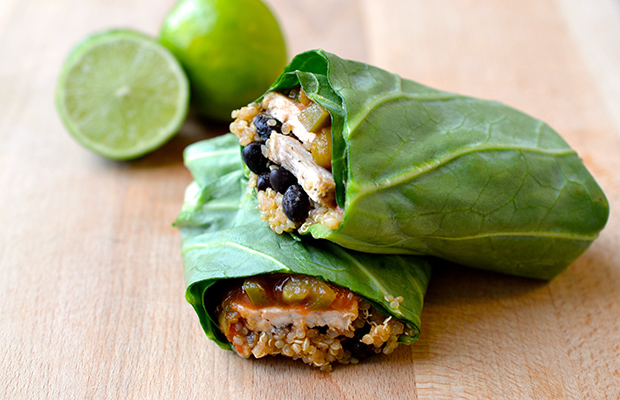 6. Collard Greens, Quinoa and Chicken Burrito
If you love digging into a warm and delicious burrito, but hate the sluggishness that follows, this one's for you. Wrapped in nutrient-dense collard greens, this chicken, black bean and spicy quinoa burrito recipe forgoes the extra carbs for a lunch or snack wrap you can feel good about. Photo and recipe: Carmen Sturdy / Life by Daily Burn
RELATED: 20 Meal Prep Ideas from the Best Preppers We Know
7. Low-Fat Pesto and Chicken Wraps
Traditional pesto can rack up 280 calories and 26 grams of fat per serving (who knew?), so we lightened up the spread with heart-healthy almonds instead. If you're looking for an easy, make-ahead lunch, dinner or snack — well, it's a wrap. Photo and recipe: Perry Santanachote / Life by Daily Burn
8. Baja Chicken Tacos
After tossing the ingredients in your crockpot, you'll be free to make a delicious and low-calorie pico and slaw for your dish. Two tacos clock in at 350 calories, meaning you can add a third (or fourth) if you're extra hungry. Photo and recipe: Amanda / The Skinny Fork 
Grilled to Perfection
9. Asian Chicken Skewers
Struggle with portion sizes? Grilled kebabs ensure you won't overeat at your next BBQ. These soy and ginger-flavored sticks will keep your taste buds happy, plus you can easily make them gluten-free by using tamari-based soy sauce. Photo and recipe: Crystal / Apples and Sparkle
10. Grilled Chicken with Pineapple Avocado Salsa
Escape the winter doldrums with some tropical salsa! This simple avocado pineapple relish is easy to whip up in a pinch, and its subtly spicy flavor will complement your grilled meat. Photo and recipe: Ali / Gimme Some Oven
RELATED: 10-Minute Homemade Salsa Recipes
11. Chicken Satay with Spicy Peanut Sauce
Skip Thai takeout and make your own nutty appetizers instead. After coating the chicken with a spice rub, let it refrigerate for an hour or two before grilling or cooking in a skillet. A serving of two skewers packs 15 grams of protein. Photo and recipe: Perry Santanachote / Life by Daily Burn
12. Summer Chicken Succotash Recipe
It's the ultimate summer dish, when corn and lima beans are at their peaks. Craving it in colder months? Frozen and canned varieties will also do the trick. And with 45 grams of protein per serving thanks to the lean chicken breast, you'll be doing your body good with each bite. Photo and recipe: Perry Santanachote / Life by Daily Burn
Skillful Skillet Chicken Recipes 
13. Chicken and Zoodles Asian Stir-Fry
By now, you probably know our zoodles obsession runs deep. Spiralized zucchini not only slashes the carb count of your dish, it packs more nutrients than a refined wheat noodle ever could. And you'll love this rendition, which pairs your veg with shredded chicken, shrooms, broccoli and bell peppers. Sriracha, green onions and crushed peanuts seal the deal. Photo and recipe: Alexa Schirm / Life by Daily Burn
RELATED: 20 Kitchen Gadgets to Make Healthy Cooking Easy

14. Orange Sesame Chicken
Boost your vitamin C levels with this recipe that transforms OJ into a tasty condiment. Tossing your chicken in flour before baking will help it absorb the citrus sauce later on. For an extra crunch, sprinkle on sesame seeds before serving. Photo and recipe: Lee Hersh / Fit Foodie Finds
15. Chicken and Basil Pomodoro with Zoodles
When you're craving a steaming plate of noodles, try out this inventive recipe that uses spiralized zucchini instead of heavy pasta. Best of all: One skillet is all you need for this quick, low-carb dinner. Photo and recipe: Ali / Inspiralized
RELATED: Zucchini Noodles and Meatballs Recipe
Baked and Bite-Size Chicken Recipes 
16. Bite-Size Mexican Chicken Taco Cups
Bye-bye cheesy nachos. You won't miss greasy tailgate foods when you've got this healthier bite-size taco recipe in your back pocket. The secret: Baking wonton wrappers in a muffin tin, and topping with better-for-you ingredients like skinless chicken breast, black beans and avocado. Photo and recipe: Carmen Sturdy / Life by Daily Burn
RELATED: 7 Healthier Super Bowl Appetizers
17. Zesty Chicken Bites
If you're gluten-free but lamenting the lack of breaded cutlets in your life, try these spicy appetizers on for size. They're coated with almond meal, cayenne and paprika, so your taste buds are sure to stand at attention. Photo and recipe: Lexi / Lexi's Clean Kitchen
18. Cranberry-Stuffed Chicken Meatballs
Sign us up for Thanksgiving flavors any time of year. This fall-inspired dish features lean ground chicken, whole wheat breadcrumbs and a tart cranberry filling that will make even the pickiest taste buds happy. Photo and recipe: Perry Santanachote / Life by Daily Burn
19. Baked Honey Garlic Chicken
We swear the Asian-inspired flavors and crispy texture of this dish will mimic even the best Chinese takeout. But since this recipe is baked and sautéed in sauce instead of fried, you'll save yourself from unnecessary fat. Panko, a Japanese-style breadcrumb, is essential for a nice crunchy exterior. Photo and recipe: Chung-Ah / Damn Delicious
Baked-Not-Fried Chicken Recipes
20. Crispy Oven "Fried" Chicken Recipe
Repeat after us: Back away from the bucket of chicken. Compared to its deep-fried counterpart, this oven-baked recipe saves you 150 calories and 10 grams of fat per drumstick. How, you ask? By removing the skin, coating the chicken in gluten-free corn flakes, and using olive oil cooking spray (instead of a giant vat of fat). Promise: You won't miss the KFC. Photo and recipe: Carmen Sturdy / Life by Daily Burn
RELATED: 15 Genius Hacks for Kitchen Gadgets You Already Own
21. Lemon Chicken with Hazelnut Orzo
Infuse your bird with tart lemon by tucking slices under the skin before baking. Keeping your salt intake in check? Use low-sodium broth to cover the meat while it's in the oven. Orzo with silvered hazelnuts makes it a complete meal. Photo and recipe: Perry Santanachote / Life by Daily Burn
22. Chicken Pesto Bake
Pesto and tomatoes: They're just better together. Whip up this easy baked chicken if you're pressed for time on weeknights. At 28.5 grams of protein and 236 calories, it will quash your hunger without derailing your diet. Photo and recipe: Gina / Skinnytaste
23. Italian Chicken and Spinach Stuffed Sweet Potatoes
Look no further for a genius way to repurpose chicken leftovers. Plus, if you detest green salads, this meal allows you to sneak spinach right into your 'taters. If you're short on time, there's no shame in cooking your sweet potatoes in the microwave instead of the oven. Photo and recipe: Natalie / Super Healthy Kids
Slow-Cooker Chicken Recipes 
24. Santa Fe Chicken
Your Chipotle order isn't doing you any favors, so why not make a slimmed-down burrito bowl instead? By loading your crockpot in the morning, all that's left for you to do at night is to serve your bird in some tortillas or with rice. Photo and recipe: Gina / Skinnytaste
RELATED: 9 Easy 5-Ingredient Slow Cooker Recipes
25. Healthy Tikka Masala
Love chowing down on Indian but wish there were a lighter way to indulge? This recipe uses Greek yogurt and coconut milk instead of heavy cream. Pro tip: Add some of your masala sauce to the yogurt before tossing the dairy into your slow cooker. This increases the temperature of the yogurt and prevents the dairy from curdling when you add it to the hot pot. Photo and recipe: Anetta / The Wanderlust Kitchen
26. Slow Cooker Chicken Tortilla Soup
Comfort food doesn't have to be stuffed with unnatural ingredients (like Chick-fil-A soup). This scrumptious stew is packed with clean ingredients, including beans, shredded chicken, corn and onions. Top it off with Greek yogurt or avocado for added protein or healthy fats. Photo and recipe: Skinny Mom
One and Done Chicken Recipes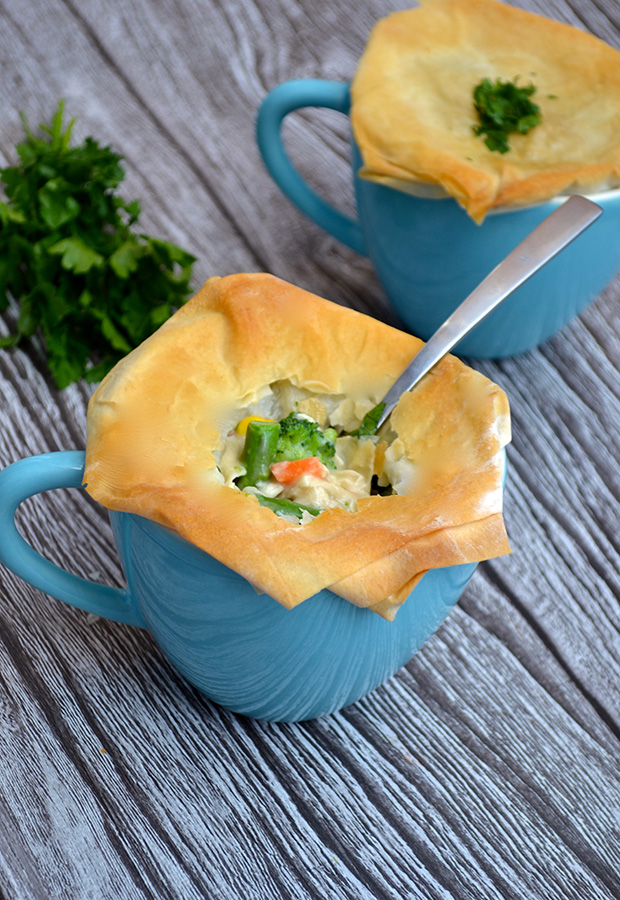 27. Healthy Chicken Pot Pie Mug Recipe
Prepare to be amazed. This 15-minute mug cake-meets-chicken pot pie is a one of the most winning chicken dinners around. You'll get all the hearty filling, plus the flaky crust — all without dirtying a single pot. Photo and recipe: Carmen Sturdy / Life by Daily Burn
RELATED: 15 Guilt-Free Mug Cake Recipes
28. Easy One-Pot Baked Pesto Chicken Recipe
All you need is one oven-safe skillet to whip up this no-fuss chicken dish. Set the clock to 30 minutes and get pumped for a healthy recipe that doesn't skimp on the delicious stuff. (Gooey mozzarella and Parmesan, we're looking at you!). Oh, and 300 calories a serving? We're all in on this one-pot wonder. Photo and recipe: Alexa Schirm / Life by Daily Burn
29. One-Pot Jambalaya
In the mood for Cajun cuisine? While most jambalayas take tons of time to pull together, this one will be ready in roughly 35 minutes. The mild flavor will appeal to kids, making it a crowd-pleasing option for your next family meal. Or, cook up a batch and use the leftovers for healthy lunches all week long. Photo and recipe: Natalie / Super Healthy Kids
30. Balsamic Chicken with Barley and Chard
Put some comfort in your healthy cooking with this balsamic chicken thigh recipe. Rich balsamic vinegar, aromatic garlic and fresh thyme lend layers of robust flavor, while the chard and barley add filling fiber that's sure to satisfy. Photo and recipe: Perry Santanachote / Life by Daily Burn
Originally published March 2015. Updated January 2017.