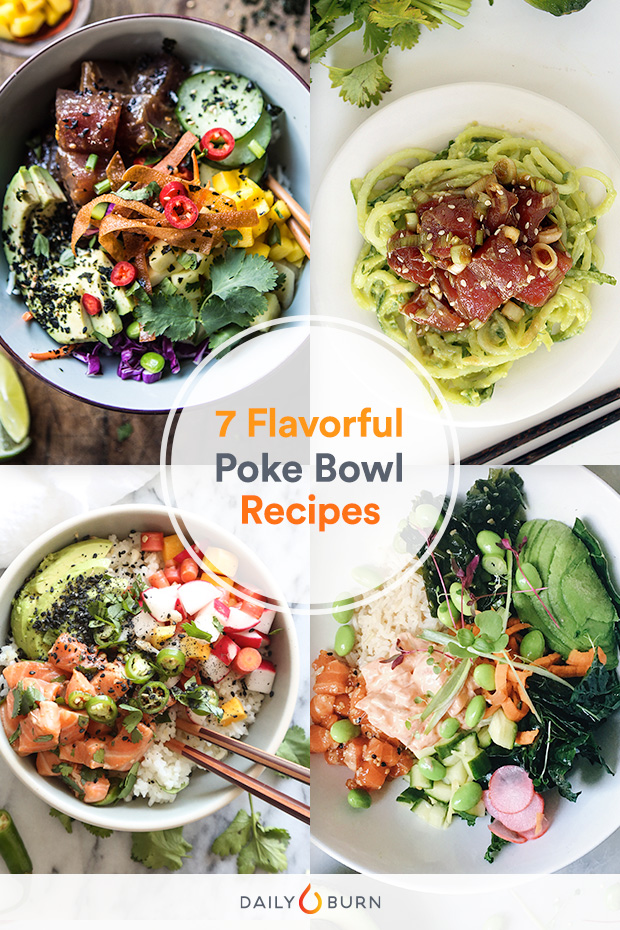 In the Instagram foodie world, the poke (pronounced poh-kay) bowl is having a culinary moment. The namesake of this traditional Hawaiian dish refers to the raw pieces of fish that are assembled into a deconstructed sushi dish. Think: Ahi tuna, brown rice, pineapple cubes, toasted seaweed, scallions and sesame seeds all combined into one fresh, satisfying bowl of deliciousness. Bonus: Poke bowl dishes are typically high in lean protein from the fatty fish and fiber from whole grains, beans and vegetables.
Traditional poke bowl preparation usually involves marinating raw ahi tuna in a salty, sweet sauce made with soy and ponzu sauces, sesame oil and rice wine vinegar. But now, you'll find other Asian interpretations of this dish, which incorporate salmon instead of tuna and use mango, kimchi, pickled veggies and black rice instead of brown. The possibilities are endless! Scroll down to see some of our favorites.
RELATED: 6 Grain Bowls That Taste As Good As They Look
7 Quick and Easy DIY Poke Bowl Recipe
1. Deconstructed Salmon Avocado
If you're tired of glorifying your greens, consider this delicious sushi salad, which features edamame to give you a boost of plant-based protein. The pickled ginger-soy dressing gives it authentic Japanese taste. If you're not a fan of brown rice, you can substitute with other hearty whole grains, like quinoa or farro. Photo and recipe: Carmen Sturdy / Life by Daily Burn
2. The K-Poke
Gorgeous pomegranate-colored chunks of yellowfin tuna are marinated in a tangy kimchi brine made with soy sauce, sesame oil, black vinegar, garlic and ginger. Red onions and scallions balance the flavors with an intense savory touch in this Korean-inspired dish. Photo and recipe: Betty Liu / Le Jus d'Orange
RELATED: Is That Seafood Safe? What You Need to Know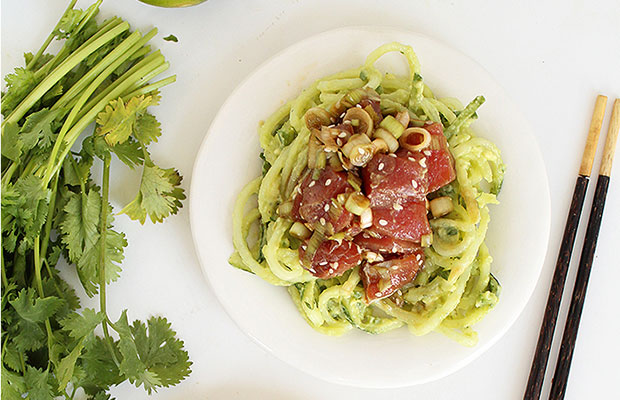 3. Inspiralized Poke
Food blogger Ali Maffucci of Inspiralized created this cucumber noodle poke after a trip to California, where Mexican, Asian and Hawaiian foods have big influence. The traditional poke marinade gets a southwestern twist with the addition of jalapeno seeds, lime juice and cilantro. In this version, she also swaps cucumber noodles for rice to up the fiber content. Photo and recipe: Ali Maffucci / Inspiralized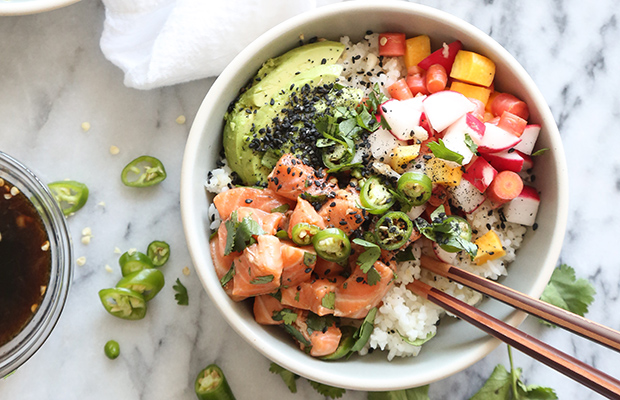 4. Pickle Me Poke
Pickling carrots and radishes tenderizes them and brings out their sweetness. But the heat gets turned up with the ponzu sauce, which features serrano chili peppers. Pro tip: Don't dress the salmon until you're ready to eat; it will turn it into a ceviche and change the texture. Photo and recipe: Phoebe Lapine / Feed Me Phoebe
RELATED: 11 Healthy Salmon Recipes Ready in 30 Minutes or Less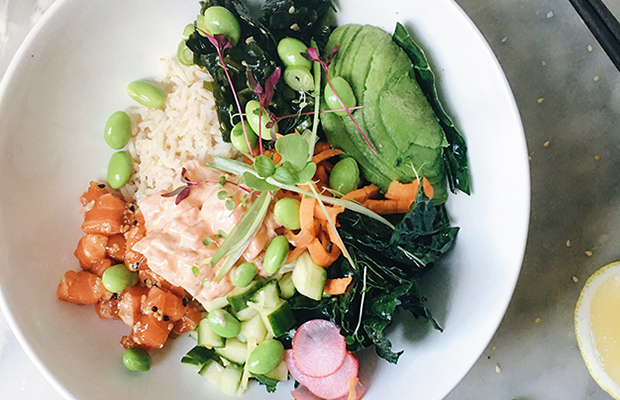 5. Do the Trout
Instead of salmon or tuna, this recipe calls for ocean trout, which has a milder and subtler flavor. Superfood king kale is a unique addition to this poke bowl, boosting the fiber and antioxidant power of the dish. The dressing also features sriracha and kewpie, a Japanese mayonnaise that's made with rice vinegar. Photo and recipe: Holly Hunter / The Healthy Hunter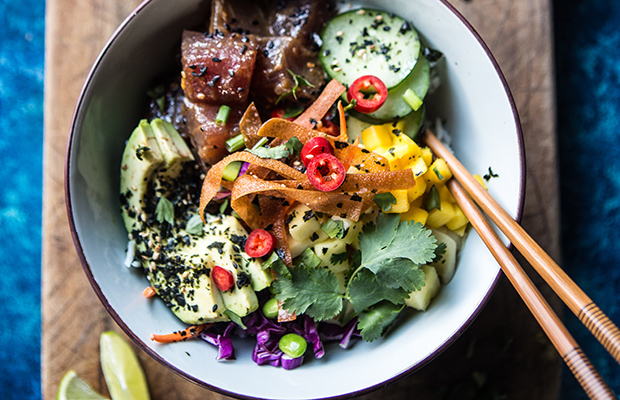 6. Hawaiian Escape
Much like many Hawaiian dishes, this poke bowl is literally a melting pot of flavors and Asian influences. Pineapple and mango add natural sweetness, while aromatic steamed jasmine rice gives it a comfort food feel. The fried lime-flavored wonton crisps add a zesty crunch. Photo and recipe: Tieghan Gerard / Half Baked Harvest
RELATED: 7 Days of Clean Eating Made Simple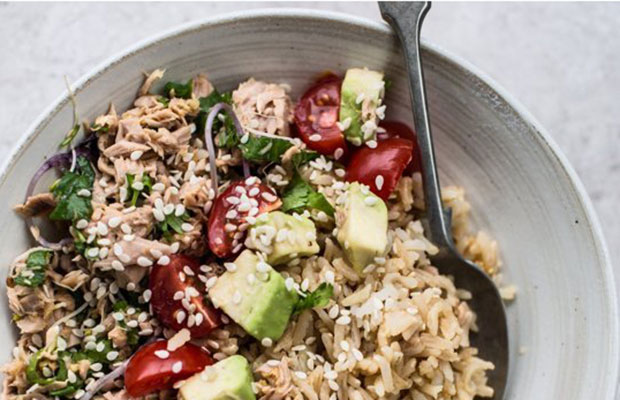 7. "Low-Rent" Poke
When you're on a budget, canned tuna is a great alternative to ahi tuna and salmon. And we swear: This recipe will feel way more dressed up than that boring tuna melt or salad. Just grab soy sauce, cilantro, sesame oil, orange juice and ginger and you'll have a game-changing dressing to zest up your dish. Photo and recipe: Izy Hossack / Top With Cinnamon 
Not a Daily Burn member? Sign up at dailyburn.com and start your free 30-day trial today.