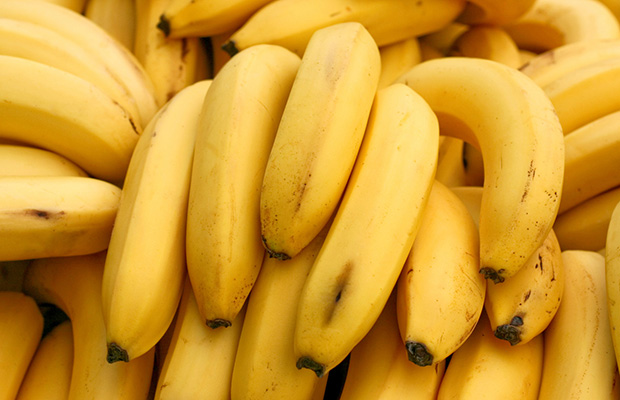 If you go bananas for…bananas, we don't blame you. There was once a time when bananas simply adorned your fruit bowl, or got sliced on top of your cereal. These days there's a full-on banana craze that has people bedazzling their 'nanners on Instagram, writing motivational quotes on the peels and creating banana-laden fruit pizzas that truly look like works of art. (Seriously. That ish is bananas.)
Beyond that, it turns out that bananas carry all sorts of mind, body and beauty benefits, from fueling you through a workout, to helping you feel less stressed, to potentially lowering your risk of stroke. Hate the taste? There are plenty of non-food uses, too. Let's just say, don't forget to save those peels. (More on that later.)
Without further ado, here are 23 unexpected ways to put bananas to good use. Banana skeptics, prepare to be amazed.
RELATED: 25 3-Ingredient Smoothie Recipes [Infographic]
Here's What Bananas Can Do for Your Body
1. Fuel your workout. Who needs Gatorade? According to one study, bananas provide an even better pre-and mid-workout boost than sports drinks thanks to their antioxidants, fiber, potassium and vitamin B6. You're one peel away from a more powerful sweat session.
2. Ease your muscle cramps. Nobody likes being sidelined with a killer Charley horse. Incorporating potassium-rich foods (like, say, bananas) into your diet can help soothe achy muscles and maybe even prevent you from cramping up in the first place.
3. Stave off hunger. Why eat a 100-calorie pack when you can indulge in a banana? The calories in a banana only total about 105 — plus, here's why it makes a great before-bed snack, too.
RELATED: 9 Healthy Homemade Energy Bar Recipes
4. Decrease risk of stroke. Reality check: Women who eat potassium-rich foods may be less likely to die from a stroke compared to women who don't eat as many foods rich in this nutrient, according to a 2014 study. Could a banana a day keep the doctor away?
5. Beautify your hair. We're not saying you should ­ditch your blow dryer and rely on bananas for your next great hair day — but this hack might be worth a try. When mashed and applied like a conditioner, bananas also reportedly soften hair and preserve its elasticity. Test it for yourself with this Banana and Almond Oil Hair Mask.
6. Treat acne. It's a practice beloved by natural living bloggers: Rub the inside of the peel on the affected area for approximately five minutes (until the peel turns brown). Repeat this process three times a day for clearer skin in just a few days, beauty gurus say.
RELATED: I'm Exercising More — So Why Am I Gaining Weight?
7. Soothe puffy eyes. Beauty experts claim that rubbing mashed banana underneath the eyes can help reduce puffiness. That's because the potassium in bananas reportedly limits fluid retention. And hey, it's cheaper than the stuff at Sephora.
8. Relieve an itch. There's nothing worse than the need to scratch. Whether you've got bug bites, poison ivy or a rash, rub the inside of a peel directly on the site of itching to get quick relief. (And we've never me a LifeHacker trick we don't trust.)
9. Reduce stress. Thanks to bananas' vitamin B6, eating the yellow fruits can trigger feel-good serotonin — which makes us feel mellower (or at least less likely to combust).
RELATED: How to Get Good at Stress (and Make It Work in Your Favor)

Hate the Taste? Use Bananas To…
10. Fertilize tomato plants. Wrapping a banana peel around tomato seedlings right before planting them can help keep the plants fertilized throughout the growing season. Watch out: Your green thumb just turned yellow.
11. Make quality compost. Speaking of fertilizer… banana peels make great fodder for compost. They break down quickly and infuse the compost with nutrients, making it richer by the time it's ready to apply to your garden.
12. Repel garden pests. To rid a garden of aphids (think of them like lice for plants) without turning to nasty pesticides, cut up banana peels and bury them one or two inches underneath the soil at the base of the affected plants.
RELATED: 6 Easy Tips for Clean Eating on a Small Budget
13. Attract the birds and the butterflies. Setting out an overripe banana or a banana peel on a flat platform in your yard can attract a variety of species that can help pollinate plants and promote biodiversity.
Sick of 'Em? Try This…
14. Brew some tea. Banana skin tea? Believe it (and don't knock it 'til you try it).
15. Make banana vinegar. The peels' bitter flavor makes a great base for homemade vinegar, which can be used in a variety of salad dressing recipes or any other recipe that calls for vinegar.
RELATED: 16 DIY Projects to Give Coffee Grounds New Life
16. Bake a protein-rich breakfast. Banana Nutella Protein Muffins pack eight grams of protein, 165 calories each, and a whole heap of flavor. Plus…nutella.
17. Slice them (and bake them) into chips. Homemade banana chips are nutritious, sweet, and way less greasy than potato chips.
18. Put them in pancakes. These Chocolate-Banana Pancakes are chockfull of filling protein thanks to protein powder, ground flax seeds, and eggs.
RELATED: 10 Delicious Protein Pancake Recipes
20. Banan-ify guacamole. Banana Guacamole? Yes, we went there. Pair it with grilled fish, tofu, or summery dishes.
21. Blend 'em in a smoothie. A protein-rich Banana-Oat Protein Smoothie provides potassium and energy — drink one before or after a grueling workout to fuel and soothe aching muscles.
22. Tenderize meat. Before cooking your next roast, rub banana all over the meat or add a whole, peeled, overripe banana to the pan in order to ensure that the meat stays tender.
RELATED: 10 Snack Hacks to Satisfy Your Most Evil Cravings
22. Eat the peels. Say what?! Now, we know it may feel unnatural, but green banana peels can actually be incorporated into tasty dishes. Just check out these recipes for Banana Skins with Black-Eyed Peas and Green Banana Curry.
23. Whip up some "ice cream". It's cheap, healthy, and oh-so-easy: This protein mint chocolate chip ice cream recipe features a secret ingredient that makes it insanely guilt-free. You guess it…bananas.
And there you have it: Better skin, healthier gardens, and nutritious, tasty dishes await all who are brave enough to open their minds to the many abilities of the humble banana.
Now orange you glad we didn't say banana again?