Condiment confession time: Do you douse your potatoes with ketchup, or drench your T-bone with steak sauce? If you said 'yes,' then chances are you may be consuming hundreds of grams of sodium, sugar, fat and preservatives in each bite without knowing it.
We love hot sauce on our eggs and honey mustard dip with our tater tots as much as anyone, but if you're not careful, a tablespoon or two of these condiments can break the calorie bank. Just a tablespoon of ketchup has a whopping 3.7 grams of sugar, and a tablespoon of hot sauce has 372 mg of sodium. Fortunately, you can easily make any of your favorite condiments from scratch with just a few ingredients and turn some of the most mundane meals into fabulous five-star dishes.
To help you cut back, we rounded up our favorite homemade versions from these highly innovative food bloggers and influencers.
RELATED: 9 Quick and Easy Salad Dressing Recipes
13 Delicious DIY Condiments Recipes
1. 4-Ingredient Pesto
Sure, it's easier to buy a jar of pesto, but soon you'll be making your own every day because this version is so easy! Just throw some basil, garlic, freshly grated Parmesan cheese, olive oil and a little salt and pepper into a food processor, and you have a delicious pesto you can enjoy over whole-wheat pasta, grilled fish, chicken or toasted pita bread. Photo and recipe: Emily Miller

2. Avocado Shallot Spread
Nutrition Stripped's McKel Hill gives guacamole a nutrition upgrade by adding shallots. If you're not familiar with shallots, they have a unique garlicky and onion-like flavor. Best of all, they're packed with flavonols and essential nutrients, such as fiber, vitamin C, potassium, vitamin B6 and vitamin A. In this recipe, they're sautéed in olive oil and sea salt to give them a little crunch and crisp. Photo and recipe: McKel Hill / Nutrition Stripped
RELATED: 10-Minute Homemade Salsa Recipes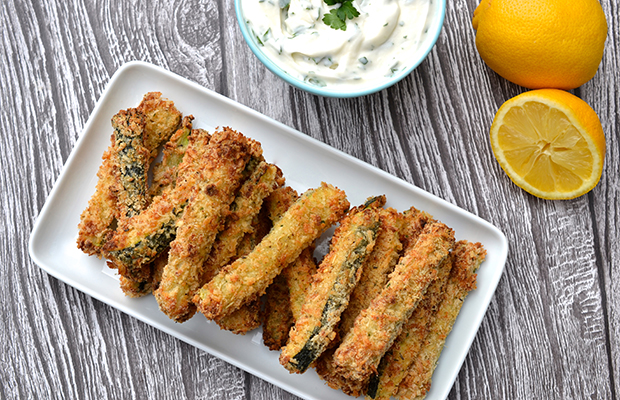 3. Healthy Garlic Herb Dip
If you love the subtle garlic flavor of aioli, you'll enjoy this lightened up garlic herb dip, which features nonfat Greek yogurt for filling protein. Greek yogurt's thick and creamy consistency makes it a great base for a variety of flavors. Chopped chives and lemon juice lend a savory kick. Recipe and photo: Carmen Sturdy
4. Homemade Healthier Nutella
We're all about enjoying everything in moderation and that includes nutella, of course. Chocolate lovers will approve of this healthy hazelnut spread, which cuts out the refined sugar and preservatives found in the store-bought version. Instead, dates add the natural sweetness, and cacao powder and butter give it the authentic chocolaty taste. Use it in these Banana Nutella Protein Muffins and you'll be grinning for days. Photo and recipe: David Frenkiel / Green Kitchen Stories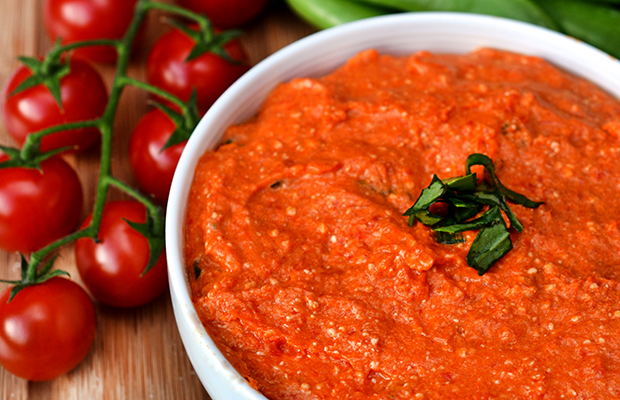 5. Spicy Roasted Red Pepper Dip
Nothing can compare to the flaming chile flavor of harissa, a Tunisian hot sauce. But if you're in a pinch for time and ingredients, this spicy red pepper dip will do. Most harissa recipes call for at least four different spices, including coriander, cumin, cayenne pepper and additional herbs. This roasted red pepper dip keeps things simple while still delivering a nice smoky, sweet flavor from smoked paprika. Photo and recipe: Carmen Sturdy
RELATED: 12 Healthy Homemade Chips Recipes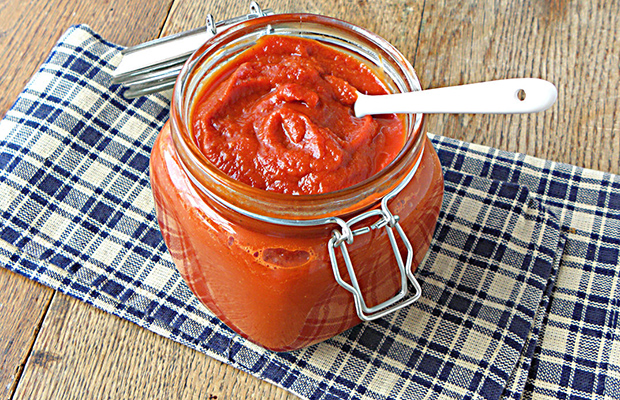 6. Healthier Homemade Tomato Ketchup
Slather ketchup on French fries, burgers, hot dogs — even eggs? Since most store-bought brands are loaded with high-fructose corn syrup, the calories and sugar quickly add up. The secret ingredient in this recipe is apple cider vinegar, which gives ketchup its signature slightly tangy flavor. You can use honey, Stevia or erythritol to sweeten it up. Photo and recipe: Brenda Bennett / SugarFreeMom
7. The Ultimate Kimchi
Probiotics, such as kimchi and Greek yogurt, are essential for a healthy gut. They help fight inflammation and prevent an imbalance of "good" and "bad" bacteria in your microbiome. This kimchi recipe requires several ingredients, but the good news is that it packs serious superfood power from the veggies and spices. You can keep it in the fridge for a few weeks, so you can make big batches to enjoy. Photo and recipe: McKel Hill / Nutrition Stripped
RELATED: 9 Nourishing Buddha Bowl Recipes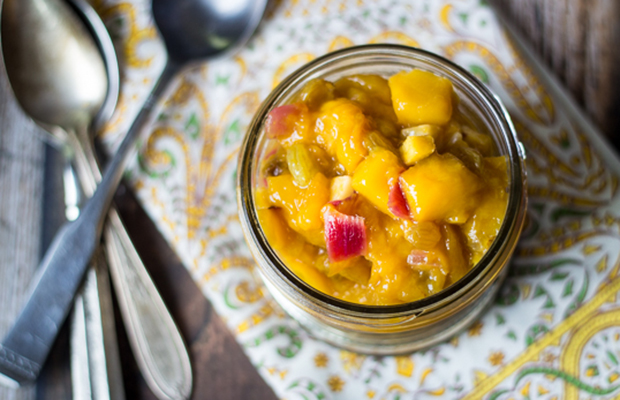 8. Super Simple Mango Chutney
Chutney is a spread found in many traditional Indian dishes, usually made with fresh fruits and vegetables, vinegar, spices and sugar. Unlike many store-bought versions, this chutney features fresh mango and red onion, and uses brown sugar and golden raisins for sweetness. For heat, layer in those red pepper flakes! Photo and recipe: Anetta / The Wanderlust Kitchen
9. 3-Ingredient Honey Mustard Sauce
You'll never want to grab another honey mustard dipping sauce at your local fast-food joint again once you get a taste of this painfully easy-to-prepare recipe. The secret ingredient: a dash of thyme, which balances the sweetness from the honey and enhances the flavor of the Dijon mustard. Photo and recipe: Sonja and Alex Overhiser / A Couple Cooks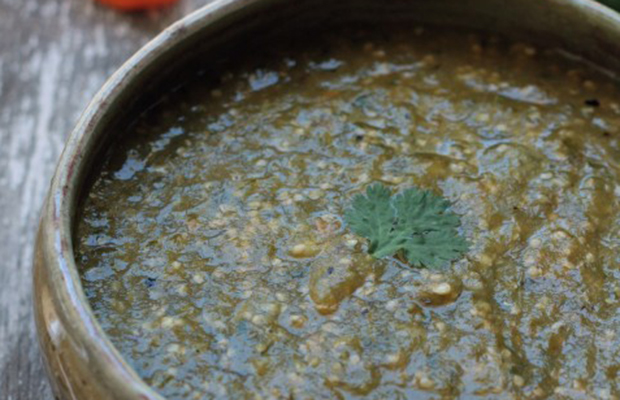 10. Easy Spicy Salsa Verde
Whether you're enjoying tacos or breakfast eggs, salsa verde is a great addition to any dish. This recipe calls for roasting tomatillos and chile peppers until they're charred before blending them. Onion flakes and cilantro lend a punch of flavor and balance out the spiciness. Photo and recipe: Mellissa Sevigny / iBreatheImHungry.com
11. Homemade Barbecue Sauce
The secret to a bangin' barbecue sauce is in the spices. Chili powder, ground cumin, garlic powder, cayenne pepper and onion powder complement the sweetness in tomato sauce. If you're not familiar with liquid smoke, it's a liquid that infuses a smoky flavor to foods. Hickory and mesquite are common liquid smoke flavors used in barbecue sauce. Photo and recipe: Andie Mitchell / AndieMitchell.com
RELATED: 9 Healthy Tater Tots Recipes You'll Seriously Crave
12. Homemade Steak Sauce
For steak lovers out there, this healthy secret sauce can also be used as a meat marinade for your next cookout. Ketchup and Dijon mustard add a sweet and savory tang, while onion, garlic, Worcestershire sauce and tamari infuse it with robust flavor. Photo and recipe: Laurie McNamara / Simply Scratch
13. Red Hot Homemade Ghost Chile Hot Sauce
Ghost chile peppers — the hottest chile peppers out there — are the star of this recipe, so be sure to wear gloves when handling them. In addition to removing the stems, you can also throw out the seeds, which can be just as fiery. Enjoy with caution because a little goes a long way! Photo and recipe: Jeanette Chen / Jeanette's Healthy Living