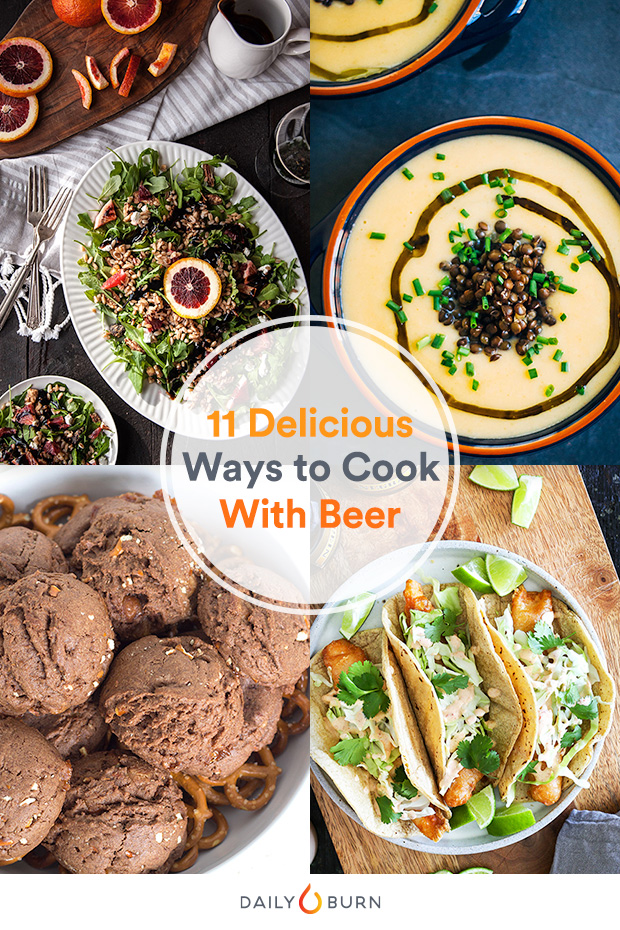 When you think of cooking with alcohol, wine probably comes to mind. We're talking steamed mussels with white wine and rosé poached peaches. But now that fall is here and heartier cravings kick in, there's no better time to start cooking with beer. Whether you're a fan of the melt-in-your-mouth chocolate and coffee flavors of stouts and porters, the hoppy, floral aroma of IPAs, fruity and spicy amber ales or the citrus bombs of sours, there's a brew for you.
In addition to choosing a beer that complements the flavors of your dish, you want to keep the intensity (ABV = alcohol by volume) of the beer in mind. Texture (think: carbonation levels, creaminess and silkiness) matters, too. While most of the alcohol content in beer will evaporate when cooking or baking, it can help intensify and enhance the flavors in your dish. For example, a low-alcohol session IPA could help tame the heat in a chili dish, while boozy stouts mellow out the sweetness in decadent chocolate cakes. And with that, grab your teku glasses and snifters and get ready to pour — into these sumptuous recipes!
RELATED: Protein Beer: Is It Really All That Healthy?
11 Delicious Dishes to Get Cooking With Beer
Recipes with Stouts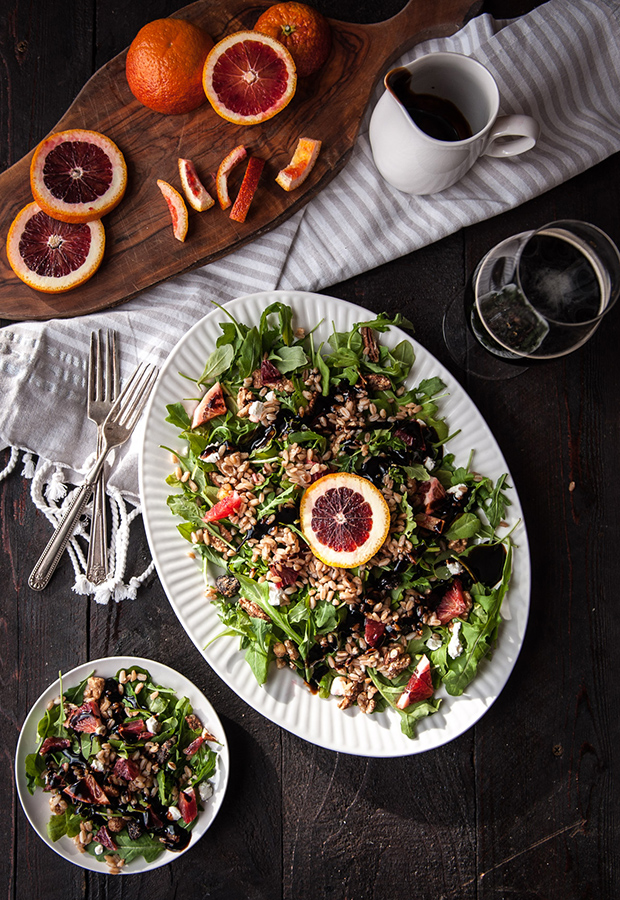 1. Drunken Winter Farro Blood Orange Salad with Stout Balsamic Glaze
Bursting with peppery arugula, tart blood oranges and filling faro, this incredibly flavorful salad is a Meatless Monday delight. A chocolate-coffee stout complements honey and balsamic vinegar in the taste-tempting dressing. If you want something less boozy, try a porter with hints of honey and mocha. Photo and recipe: Jackie Dodd / The Beeroness
2. Game Day Beer Chili
If there was a signature dish for cooking with beer, it's definitely chili. This recipe is sure to be a touchdown at your next Sunday football party. Depending on your beer preference, a silky porter or stout can help thicken up the chili and complement the smokiness of the paprika, chili flakes and chili powder. On the other hand, the hoppiness of an IPA can enhance the heat from the jalapenos and the sweetness of the ground Italian sausage. A lager is a good choice, too, if you want to stay true to the flavors of the recipe and have a cleaner taste. Photo and recipe: Jessica Merchant / How Sweet Eats
RELATED: 7 Healthy Chili Recipes to Keep You Warm All Season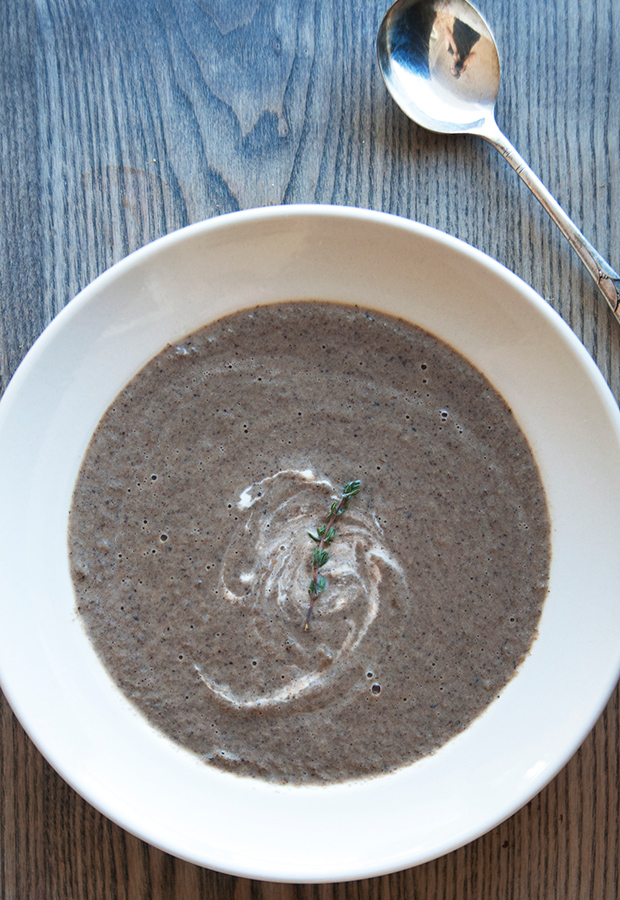 3. Savory Mushroom Soup
Now that the days are shorter, getting enough sunlight is a tall order. But this creamy homestyle mushroom soup makes up for it with a hearty dose of vitamin D. The combination of truffle oil, a mild-tasting porter, fresh thyme and garlic makes this soup intensely flavorful. Prepare a double batch and freeze it for future meals. Photo and recipe: Claire Thomas / The Kitchy Kitchen
4. Chocolate Stout and Pretzel Cookies
An oatmeal stout is the perfect complement to these salty and sweet cookies. The slight bitterness from the stout mellows out the sweetness from the cocoa and caramel bits. Stick to two cookies per serving and enjoy them with a tall glass of milk to make it a much more filling treat. Photo and recipe: Miranda / Cookie Dough and Oven Mitt
5. Dark Chocolate Stout Doughnuts
Nothing screams "boozy treat" quite like these mini chocolate doughnuts. We recommend using dark cocoa powder to complement the flavors of the stout. (Plus, it packs more antioxidant power than milk cocoa.) And because these are mini, they're the perfect portion size for indulging your sweet tooth without going overboard. Choose a stout with hints of vanilla to complement the extract in the doughnuts and hazelnut or caramel to accentuate the glaze. If you want to cut back on the sugar, eliminate the glaze. Photo and recipe: Beth Branch / Beth Cakes
RELATED: 16 Healthy Pumpkin Recipes for Every Meal
Recipes with IPAs, Lagers and Lighter Beers
6. Spicy Shredded Chipotle Chicken
If you want to really bring the heat in the chipotle peppers, consider using an IPA. A beer with a high ABV and double the hops will help enhance the spiciness. Freshly squeezed orange juice and cilantro infuse some zesty flavor. Toast some whole-wheat tortillas over stovetop and top some of the chicken to make tacos. Photo and recipe: Lindsay Ostrom / Pinch of Yum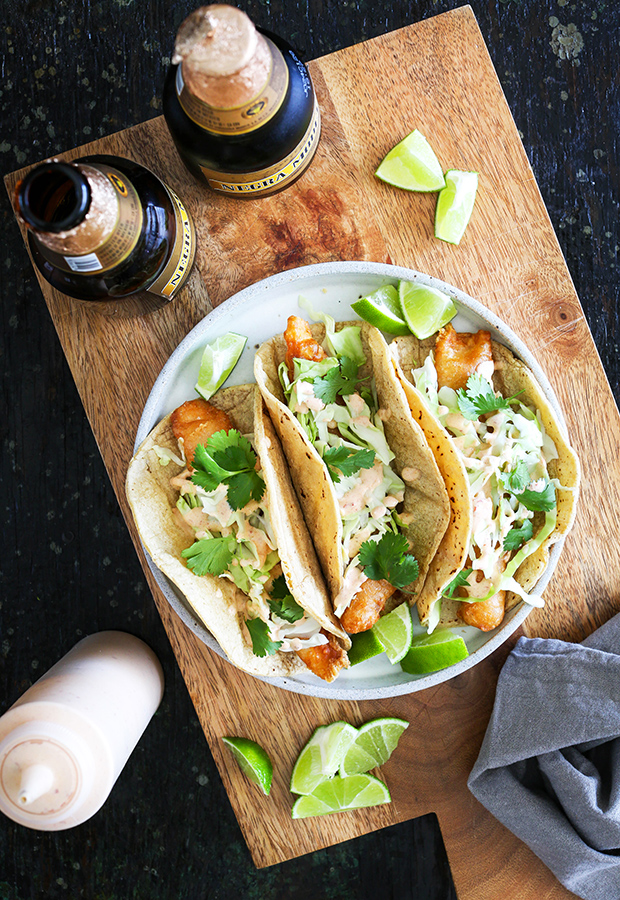 7. Crispy Fish Tacos
Half the fun in preparing this tilapia-based dish is making the beer batter at home! Swap the all-purpose flour for whole wheat or a nut flour of your choice to make it a bit healthier. Choose a Mexican beer, like Corona or Negra Modela, to complement the Southwestern ingredients in this dish. Just keep in mind that their textures and tastes are largely different: Modela has hints of sweet caramel, and Corona has a crisper, more citrus flavor. Photo and recipe: Brandon Matzek / Kitchen Konfidence
RELATED: 9 Fall Cookbooks to Change Up Your Healthy Eating Routine
8. Strawberry, Goat Cheese, Avocado, Arugula Salad with Beer Brined Chicken and Limoncello Poppyseed Dressing
Brining is an excellent healthy cooking technique that helps keep the meat moist and tender, while also adding flavor. It also helps prevent overcooking. In this arugula salad recipe, chicken breasts are brined in blonde ale with citrus notes to complement the berries in the salad. Add creamy goat cheese and avocado for heart-healthy fats and decadent texture. Photo and recipe: Rachelle / Beer Girl Cooks
9. Beer Baked Tempeh Reubens
With all the mouthwatering flavors in this dish, you won't miss the corned beef! Tempeh is marinated in mustard, tamari, Worcestershire sauce and an IPA, but you can also choose a wheat beer or pale ale. The hoppiness of the IPA will bite through the pickled flavor of the homemade thousand island dressing. Belgian beers would also complement the salty tempeh. Photo and recipe: Ashley McLaughlin / Edible Perspective
10. Beer-Steamed Clams
The sumptuous aroma of this Southwestern dish is sure to have your family and friends beckoning to the kitchen. A citrusy pale ale or even a sour is the perfect base for the clam broth, which gets infused with jalapenos, garlic, cilantro, lime juice and chicken stock. For a light dinner, serve with some crusty sourdough bread and a green salad. Photo and recipe: Bev Weidner / Bev Cooks
RELATED: 12 Insanely Easy Crock-Pot Recipes
11. Creamy Autumn Beer Soup With Black Lentils and Chives
Beer in a soup? Fear not, you won't be sipping on your favorite IPA in a bowl! While the recipe calls for your favorite IPA, we also recommend a lager for its clean taste and crispness. Or, choose an amber ale for its fruitier and spicier notes. In this hearty lentil soup, your brew of choice can enhance the savory flavors of the vegetable stock or the smoked paprika and cayenne. Photo and recipe: Sarah / Well and Full