It's no secret that slow cooker recipes are the key to a hassle-free week of meals. Hello, easy meal prep! But a quick scroll through Pinterest won't necessarily yield the healthiest of results. We've rounded up 12 options that are as nutritious as they are mouth-wateringly delicious. The best part? Crock-pots (aka slow cookers) are basically foolproof. All you need to do is dump your ingredients inside, then set it and forget it! Even the most inexperienced chefs will be able to make restaurant-quality dishes at home.
RELATED: 7 Healthy Chili Recipes to Keep You Warm All Season
Soup for You: 12 Healthy Crock-Pot Recipes
1. Sweet Potato, Chicken and Quinoa Soup
When the ingredient list is this short (only eight!), this soup is way better than the canned stuff. Let quinoa, sweet potatoes, black beans and tomatoes — plus a few spices — simmer with chicken for a few hours. You'll have yourself a hearty bowl full of flavor waiting for you when you get home. Photo and recipe: Chelsea Lords / Chelsea's Messy Apron
RELATED: Meal Prep Like a Pro: 3 Recipes, One Batch of Quinoa
2. Verde Chicken Chili
This recipe gets its flavor from a whole bunch of spicy goodness in the form of cumin, chili powder, jalapeno and hot sauce. All that heat brings with it a dose of metabolism-revving capsaicin (so who's complaining, right?). Tongue too hot? You can cool down the kick with a sprinkling of mozzarella plus fresh slices of avocado. Photo and recipe: Stacie Vaughan / Simply Stacie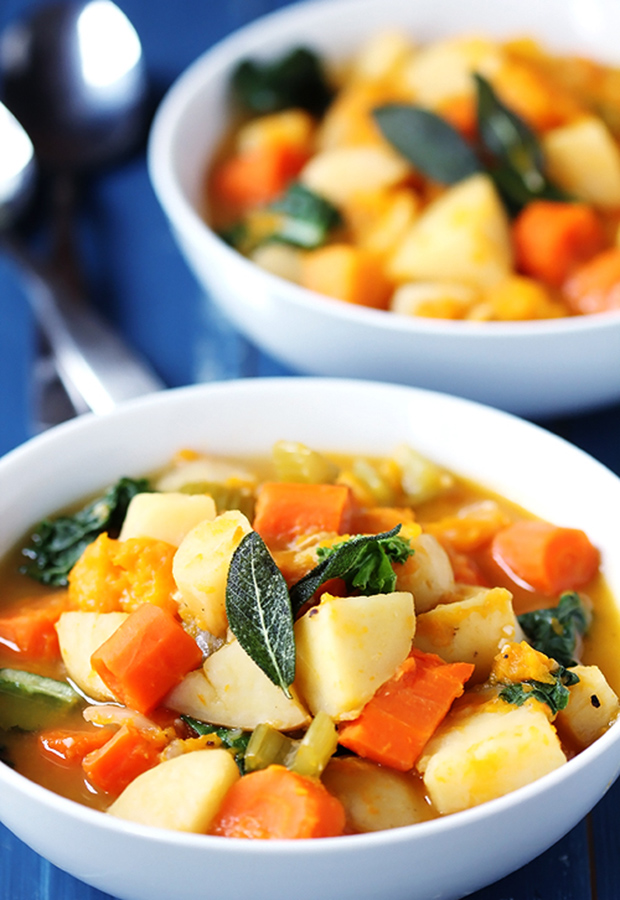 3. Root Vegetable Stew
Proof vegetables can be comfort food: this cozy stew packed with plenty of 'em. No need to get fancy when chopping your produce either. For this one, we say slicing and dicing larger pieces will make this nourishing soup even better. Your taste buds will love the hearty texture. Photo and recipe: Ali Ebright / Gimme Some Oven
RELATED: 8 Quick Stir-Fry Recipes for Healthy Weeknight Dinners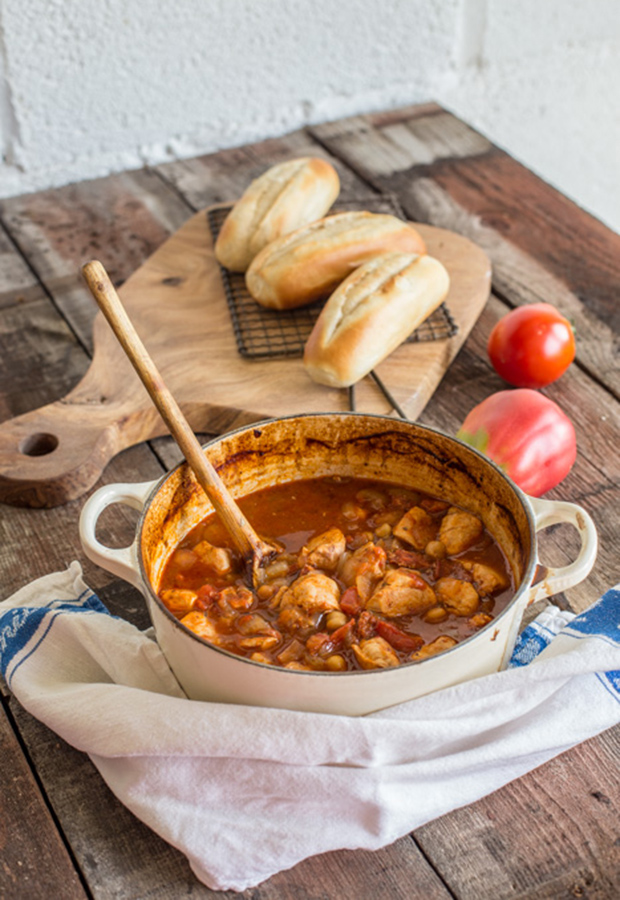 4. Chicken, Chorizo and Chickpea Stew
Opt for a healthy cooking oil instead of the prescribed cooking fat, and this cozy bowl just got a whole lot more guilt-free. Vegetables such as fresh tomatoes and chickpeas give the stew texture without overwhelming the other flavors. Leave it to the spicy chorizo to wake your taste buds up on a sleepy winter evening. Photo and recipe: Jane Sarchet / The Hedgecombers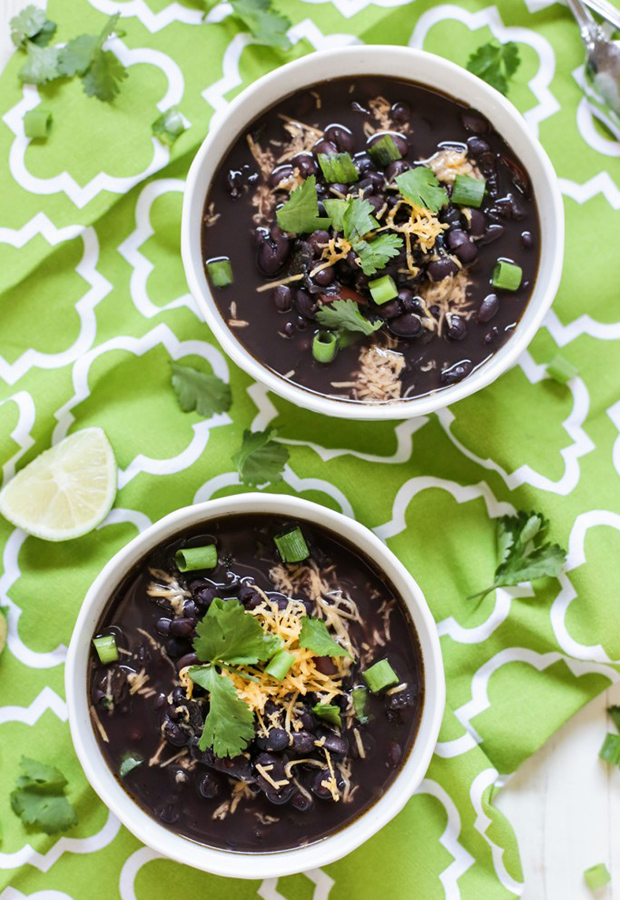 5. 7-Ingredient Black Bean Soup
Yes, you read that correctly. You're only seven ingredients away from a satisfying, meat-free lunch or dinner. Onions, red peppers, garlic and cilantro make this soup so much better than your average side of beans. Bonus: Black beans are rich in protein, which means you'll have more energy to power through your afternoon to-do list. Photo and recipe: Kristin Marr / Live Simply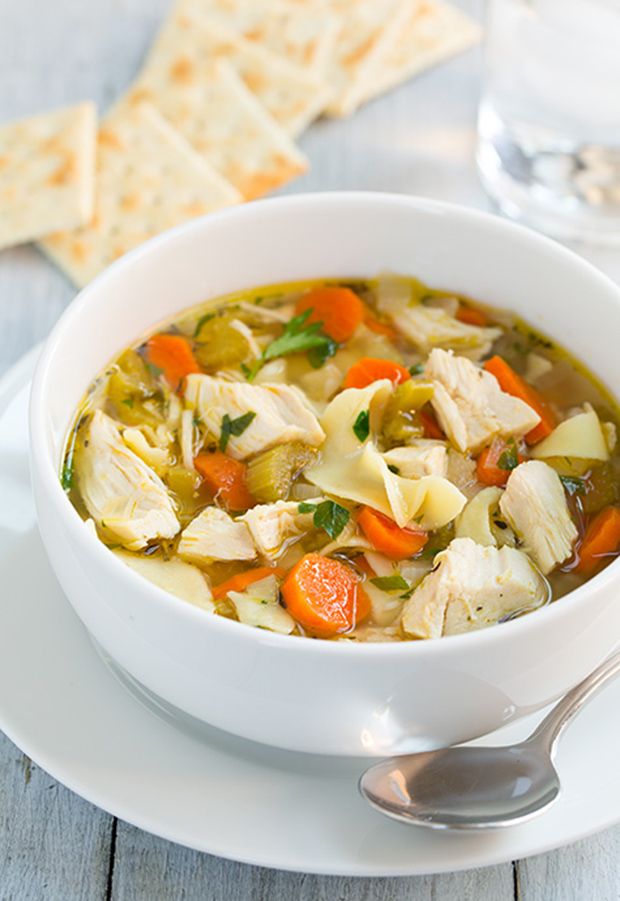 6. Chicken Noodle Soup
If you're a fan of the classic comfort food, this recipe is about to become your new favorite version. With thyme, rosemary, sage, parsley and celery seed, the soup doesn't go light on bold herbs. And with seven hours to simmer together, the flavors will really deepen. Photo and recipe: Jaclyn Bell / Cooking Classy
7. Thai Coconut Soup with Lemongrass
Spice lovers, rejoice! Thai red curry paste gives this recipe a kick that is balanced out by creamy coconut milk base. Spoon over a bowl of brown rice if you want to fuel up with a few more healthy carbohydrates. Photo and recipe: Karen Petersen / 365 Days of Crockpot
8. Turkey, Black Bean and Sweet Potato Chili
With lean turkey instead of beef, this remix on the cold-weather classic has less fat than your average beef chili. Sweet potatoes deliver a dose of vitamin A, while quinoa provides a boost of protein. Top with Greek yogurt instead of sour cream and you can go ahead and pat yourself on the back. Photo and recipe: Jess and Frank Smith / Inquiring Chef
RELATED: 11 Ground Turkey Recipes to Eat Cleaner, Stat
9. Mole Chicken Chile
On days when it's just too cold to go outside for lunch, bring this rich dish to warm you up from the inside out. Surprising ingredients like almond butter and dark chocolate will help deepen flavors. Thanks to plenty of fiber and protein, just one bowl will keep you satisfied until your next meal. Photo and recipe: Chelsea Zwieg / The Whole Bite
10. Chicken Tortilla Soup
Add the hot sauce of your choice to your crock-pot mix for a taste exactly to your liking. Store-bought just can't compete with that flavor! Tomatoes, corn, onions and two types of beans pump you up with tasty veggies. Lastly, don't be afraid of getting a little heavy-handed with the toppings when you're feeling like a splurge — good-for-you fats from the avocado slices are your friend here. Photo and recipe: Dani Meyer / The Adventure Bite
RELATED: 15 One-Pot Meals for Quick, Healthy Dinners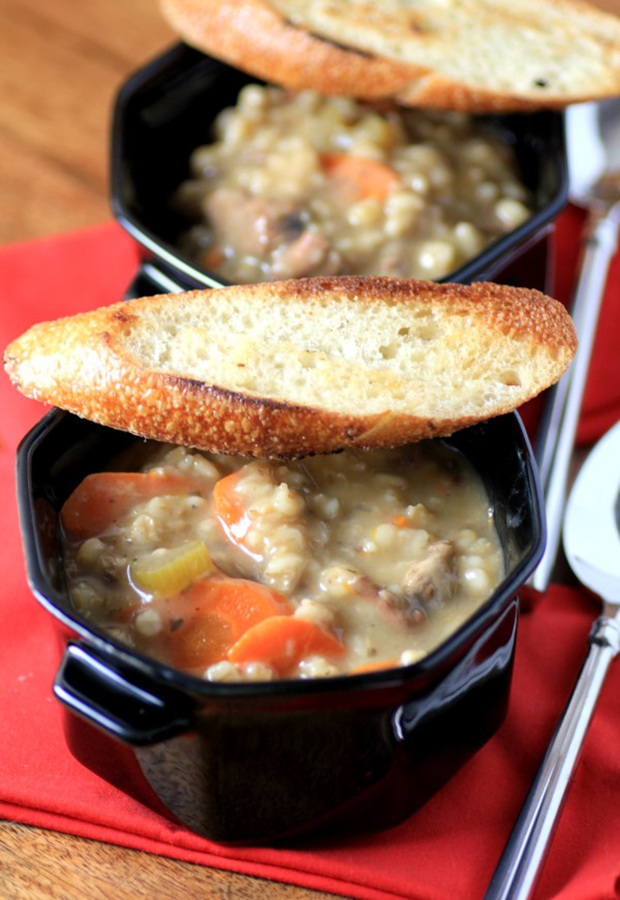 11. Beef and Barley Soup
If you don't know already, barley is a majorly versatile grain to work into your diet. Proof: This beef and barley soup that uses pearled barley instead of noodles. Add a slice of crusty bread to mop up every last drop. Photo and recipe: Tara Noland / Noshing with the Nolands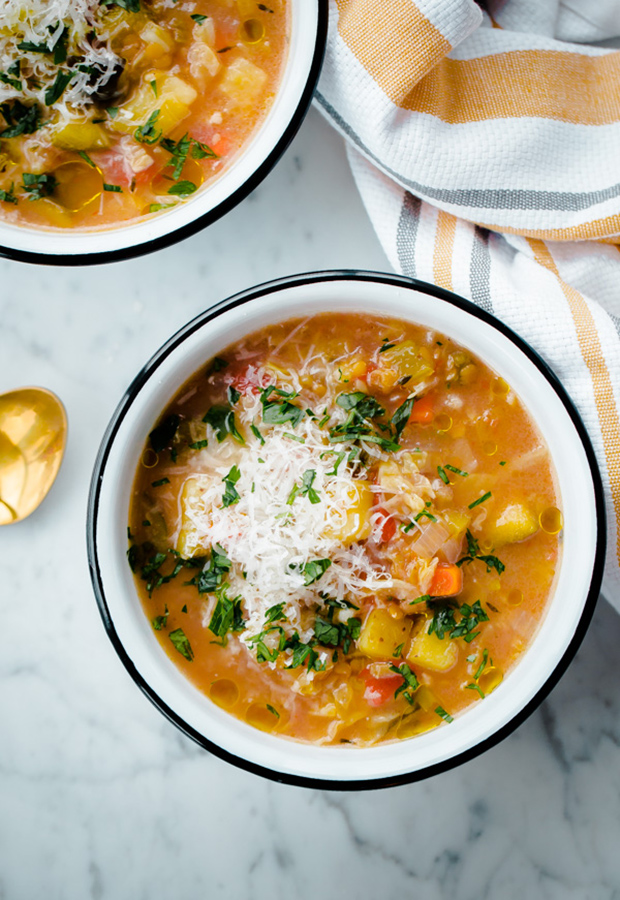 12. Winter Vegetable Soup with Split Red Lentils
While the celery, tomatoes, carrots, potatoes and zucchini replenish your energy reserves, the lentils in this scrumptious recipe will deliver a hit of filling fiber and protein. And if that wasn't enough, olive oil joins in to add some healthy monounsaturated fats, which can help regulate blood sugar by promoting good cholesterol. Photo and recipe: Laura Davidson / A Beautiful Plate
Originally published February 2016. Updated November 2016.