So you've decided to sign up for a race, but there's one catch: It's in another country. After all, who wants to run in their hometown when they can train there for free? There's something exhilarating about training for a race abroad. It's a great way to crush new fitness goals, while satiating your wanderlust appetite, too. Plus, planning a race-cation — where you enjoy a celebratory vacation afterward — can make travel feel more balanced. Work hard, play harder, as they say!
But there are a few things to keep in mind when traveling overseas. From what to pack to how to eat, we talked to the pros to get an inside look on how to nail your first international race, no matter which country you pound pavement in.
RELATED: The Most Epic Trail Races Across the U.S.
15 Expert Tips for Running Your First International Race
Choosing Your Race
1. Decide your comfort level. It's fun to experience a new culture, but when you're trying to get important race information, it can quickly become stressful. Marni Sumbal, sports dietitian and triathlete coach, says the first thing you have to decide on is how far you're willing to branch out. Are you OK if nobody speaks your language? Would you feel comfortable in a place that has food you've never tried before? These are all questions to ask yourself — and find the answers to — when selecting your race. If you do decide to travel to a country where you don't know the language, spend some time familiarizing yourself with some basic phrases and words to help you get around.
2. Book early. Secure a flight in advance with plenty of time between your arrival and race day. "A lot of people think you only need to get there a day or two early, but when you go international, you want to account for the time change," says Sumbal. A case of jet lag can make you feel even more tired, and you may need more time to recover and adjust. "When you pass more than two or three time zones, you should allow for one day per time zone, or maybe more if your schedule allows." So if you're going somewhere that's six hours away, Sumbal says to allow for at least three days to get yourself acclimated to the time switch. The bonus is that booking early will help you save money on your flight.
3. Do your research. Once you've chosen the race, you have to pick the accommodations. If you're not a picky eater, any place close to the start line might do. But those who like to settle into a routine may want to consider their options more carefully. "Whenever I travel, I always make sure there's a kitchen," says Sumbal. That way you can easily make the coffee you like or whip up your favorite pre-race toast.
Extended stay hotels or home-share sites like Airbnb typically have kitchen-equipped units, but a hotel may have appliances, too. "Sometimes they're included in the room, other times you pay a small charge, like $20, or they may have it in the lobby for you to use," says Sumbal. Pack dried foods with you, like packets of oatmeal and brown rice, beef jerky, a jar of natural peanut butter, a box of whole-wheat crackers and bags of your favorite nuts to keep in your hotel room when food isn't easily accessible.
RELATED: 11 Healthy Snacks to Stock Up on Now
What to Pack
4. Foods you like. "If you have trained for months to crush a certain goal, the last thing you want to do is arrive at your international race and either get sick from the food or not want to eat because you're not comfortable with what's being served," says Dorothy Beal, running coach and creator of I Run This Body. Having a few of your favorite comfort foods before the race, the breakfast bites you've been training with and something to nosh on immediately post-race are your main meals to think about, says Beal.
Prepare some homemade energy bars and sports drinks before your trip and store them in an air-tight container. You can also research restaurants near your hotel to see what's available ahead of time. Sumbal suggests throwing in a few snacks (think trail mix and sandwiches) for travel time and anything that worked well during training, too. "Typically as long as it's not fruit, vegetables or meat, you can bring it into the country, just double check beforehand," she says.
5. Adapter plugs. Depending on the country you choose to race in, your standard cell phone, tablet and computer plugs (which you'll also need to power up your fitness watch) may not be compatible. A quick Google search will tell you which adapter (or converter or transformer) you'll need. If you travel frequently — or think you might start once you get hooked on the idea of a race-cation — an all-in-one adapter like this one may be your best bet. Remember to also contact your cell phone provider (and your bank) to alert them about your travel plans. One of the most stressful things is not being able to communicate to get to and from the start and finish lines.
6. Extras. One of the worst pre-race moments ever is when you realize that you don't have one of your race essentials (think safety pins for your bib and hair ties) because you assumed they'd be available at the race expo. That nearly happened to Beal when she ran the Great Wall Marathon in China. "There was no expo; you were given your race packet at the host hotel," she says. Luckily, she avoided a freakout by bringing her own goodies. "I always bring extra safety pins, hair elastics in case mine break, small packs of tissues for emergency toilet paper, Body Glide, Nuun and extra clothing in case it's cold at the start of the race," she says.
RELATED: The 30 Best Marathons in the Entire World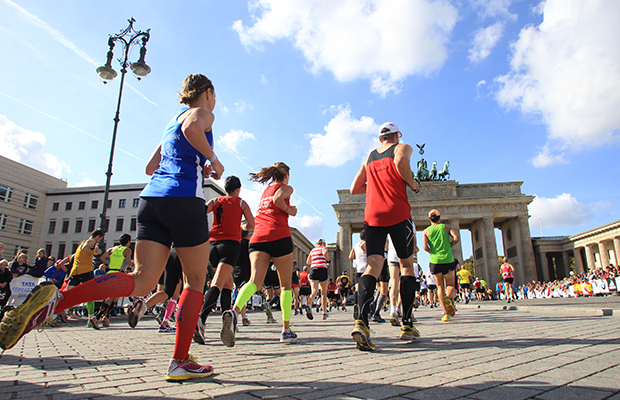 While You Travel
7. Keep your race gear nearby. Lost luggage is bad, but it's even worse when that bag contains your race essentials. Robin Arzon, running coach and author of Shut Up and Run, suggests keeping those goods in your carry-on. You can wear your sneakers, then pack things like your running watch, fuel (chews or GU, if you use them), and your race-day outfit so you won't miss a beat.
8. Hydrate, hydrate, hydrate. "It's always important to make sure you are hydrated in the days leading up to a race. But it's extra important when you throw travel in the mix — a time when most people don't drink enough water," says Beal. (She aims to down about 100 ounces per day). If you're feeling dehydrated, consider adding electrolytes to your drink via tablets like Nuun. "Don't underestimate how much traveling can dehydrate you and how much of an effect that can have on your performance," warns Beal.
9. Limit salt. Steering clear of salty foods and drinks can also help with hydration issues, especially if your hands, feet and calves tend to swell while flying. Michele Gonzalez, running coach and blogger of NYC Running Mama, suggests reducing the amount you typically take in starting two days before the race. You don't need to completely eliminate it though, as salt is an important part of race performance.
10. Eat every few hours. That way it'll be easier to switch to the time zone you're entering, says Sumbal. "If you're going back in time, then you don't want to feel like you've eaten your three meals and you still have eight more hours before you go to bed," she explains. "So having small meals throughout the day, and eating something lighter like fruit or nuts, in between, will help make sure you're never too hungry and never too full." Headed forward in time? Sumbal says you're probably going to eat a little more than you're used to, but that it's still best to get on that time zone's eating schedule as soon as possible. "So if you land at 8 a.m., go have a light breakfast and eat your standard breakfast, lunch and dinner like you normally do."
RELATED: A Runner's Guide to Hydration (And How to Not Overdo It)
11. Move about the plane cabin. Whenever it's deemed safe to do so, Gonzalez says it's best to walk around and stretch about every hour while traveling. It will help keep your legs loose for race day, and will help keep blood circulating. Drinking water regularly will help encourage those frequent bathroom breaks! On the way back to your seat, Gonzalez suggests walking the aisle a couple of times and rotating through a few basic stretches, like calf raises and high knees, before returning to your seat.
12. Wear compression socks or sleeves. Not only will it help reduce any swelling and encourage blood circulation throughout your flight, but Gonzalez says wearing compression socks can help your legs feel less tired and heavy. "I put them on right after takeoff and wore them until we got to the hotel, and it was the first time I felt a huge difference in how I felt after traveling," she says.
RELATED: 50 Running Resources for Speed, Strength and Nutrition
When You Arrive
13. Go for a shakeout run. "This is a great way to get rid of soreness and stiffness from the flight," says Gonzalez. "It doesn't have to be long — just 20 minutes will do the trick. And you should run at a nice, easy pace that doesn't feel too difficult." Sumbal says it can also help relieve any constipation, which often ails travelers due to dehydration and a lack of fiber.
14. Save the touristy stuff. While it's tempting to start sightseeing as soon as you land — especially if you arrive a few days before the race — Gonzalez says it's best to wait until after that medal is around your neck. "The best way to recover from a hard race is to walk and keep the legs moving," she says. "This way you won't feel as sore the next day, nor will you be running on tired legs on the day that counts."
15. Stick to your regular routine. It helps you feel less of a culture-shock and keeps you from spending too much time on your feet before the big day. You can work remotely for a few days leading up to the race to give you some semblance of your normal routine, says Sumbal. Just post that out of office message a day or two before toeing the start line, she says, so you have time to relax and mentally prepare for the race ahead.