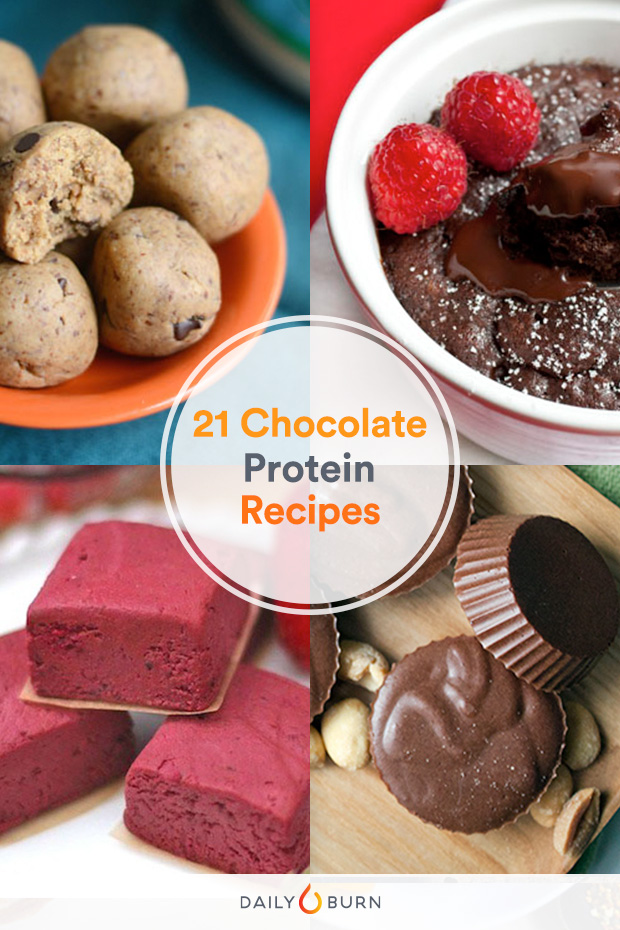 No offense to vanilla, but chocolate has always held a special place in our hearts. Unfortunately, too much of the sweet stuff can lead to a higher risk for problems such as obesity or diabetes — but we've got good news. You can make some of your favorite chocolate foods healthier by using chocolate protein powder in place of flour and added sugar you'll find in most recipes.
RELATED: 15 Unexpected Protein Powder Recipes
The additional protein will keep you satiated so you can treat yo' self without overindulging. Plus, the friendlier portion sizes will help you avoid those inevitable sugar crashes and stomachaches. From breakfast cereals and pancakes to shakes, cookies and fudge, we've rounded up 21 decadent recipes that will make any chocoholic rejoice.
21 Delicious Recipes with Chocolate Protein Powder
High-Protein Breakfasts
1. Healthy Cocoa Puffs (17.2 g protein)
Cuckoo for Cocoa Puffs? This homemade version puts a healthier spin on the childhood cereal your mom and dad probably never let you buy. Between preparing, chilling and baking the dough, these chocolate morsels will take some time, but they're worth the effort. Photo and recipe: Ali / Veggies by Candlelight
2. Chocolate Banana Protein Pancakes (22 g of protein)
You'll definitely flip for these healthy hotcakes! Flax seeds, eggs and chocolate protein powder up the protein content in these flapjacks, making them the perfect post-workout power meal. Drizzle your stack with honey or maple syrup for a sweet finishing touch. Photo and recipe: Perry Santanachote / Life by Daily Burn
3. Brownie Batter Protein Overnight Oatmeal (20 g protein)
These overnight oats pack a one-two punch, thanks to a combination of chocolate protein powder and Greek yogurt. Prepare it the night before so the oats have enough time to soften and absorb the liquid. Photo and recipe: Katie / Dashing Dish
RELATED: How to Choose the Best Protein Powder for You
4. Low-Carb Chocolate Hazelnut Waffles (16 g protein)
Craving Nutella? Try these gluten-free hazelnut waffles instead. Made from hazelnut meal instead of flour, they'll have much less sugar than the chocolaty spread. If you're keeping an eye on how much fat you're consuming, use low-fat Greek yogurt instead of regular. Photo and recipe: Carolyn / All Day I Dream About Food
RELATED: 10 Delicious Protein Pancake Recipes
Protein Smoothies
5. Black Forest Protein Shake (23.2 g protein)
Have your chocolate cake and drink it, too. This decadent shake has the same flavor as the luscious dessert. Antioxidant-rich cherries will soothe post-workout soreness, so don't skimp on the red fruit. Photo and recipe: Perry Santanachote / Life by Daily Burn
6. Raspberry Chia Protein Shake (33 g protein)
Most smoothies get their thickness from bananas, but this one has the same texture thanks to a combination of antioxidant-rich raspberries and chia seeds. The fiber and protein will keep you energized all day long. Toss some cacao nibs and hemp seeds on top for extra flair. Photo and recipe: Perry Santanachote / Life by Daily Burn 
7. Mocha Protein Shake (28 g protein)
Need an afternoon pick-me-up? Reach for this caffeinated sip instead of your usual sugar-laden Frappuccino. Thanks to some cold brew and instant coffee powder, this blended creation has plenty of caffeine to keep you going. Photo and recipe: Perry Santanachote / Life by Daily Burn
8. Chocolate Peanut Butter Protein Shake (32 g protein)
Sweet (peanut butter) dreams are made of these. Who are we to disagree? Cheat on your Reese's addiction with this nutty knockout. With seven grams of fiber and over 30 grams of protein, drink it as a meal replacement or for a refreshing snack after a sweat session. Photo and recipe: Perry Santanachote / Life by Daily Burn
9. Protein Frosty Shake (26 g protein)
Thick, creamy and oh-so frothy, this slimmed down childhood classic tastes just like the original. Be sure to have xatham gum on hand, because that's what gives this sip its unmistakable "Frosty" texture. Photo and recipe: Perry Santanachote / Life by Daily Burn
10. Chocolate Brownie Batter Protein Shake (16 g protein)
This vegan protein shake is the next-best thing to licking batter straight from the bowl. Pouring brewed coffee into your blender adds a kick of caffeine to energize your morning or afternoon. Plus, the java complements (and intensifies!) the chocolate taste. Photo and recipe: Lee Hersh / Life by Daily Burn
High-Protein Snacks
11. Chocolate Peanut Butter Protein Bars (6 g protein)
Store-bought protein bars sure aren't cheap, so why not make your own? Chow down on this version after a tough workout — the carbs and protein will help your muscles recover faster. Photo and recipe: Emily Miller / Life by Daily Burn
12. Protein Puppy Chow Mix (10 g protein)
Puppy chow is a snack time calorie bomb that's usually packed with sugar and butter, in addition to chocolate and peanut butter. This lighter, gluten-free take has half the calories and fat of the regular version, so you can munch happy without indulging too much. Photo and recipe: Jessica / Desserts with Benefits
13. Chocolate Chip Cookie Dough Protein Balls (10 g protein for two balls)
Roll these delicious bites up in a jiffy, since they're no-bake and only require five ingredients! Pack these in a purse or gym bag and fuel on-the-go. If you're allergic to peanuts, simply substitute almond butter into the recipe. Photo and recipe: Lee Hersh / Life by Daily Burn
14. Chocolate Maca Protein Truffles (12 g protein for two truffles)
Thanks to dates and coconut oil, this recipe needs no sugar or artificial sweeteners. You'll have to refrigerate the dough for an hour before rolling it into balls, so make a big batch you can enjoy all week long. Photo and recipe: Sarah McMinn / My Daring Vegan
Protein-Packed Desserts
15. Molten Lava Chocolate Cake (11 g protein)
Craving dessert but want to avoid a sugar coma? Mix up this foolproof, five-minute recipe for molten lava cake. No need to turn on an oven, because you can cook it right up in your microwave. Photo and recipe: Perry Santanachote / Life by Daily Burn
16. Red Velvet Fudge Bites (17 g protein)
These red noshes get their rosy hue from roasted beet puree, not food coloring. Need just a nibble of dessert? Cut the bars into smaller squares for portion control. Photo and recipe: Jessica / Desserts with Benefits
17. Almond Joy "Cheesecake" (29 g protein)
Five minutes and five ingredients are all you need for this candy bar inspired mousse. Eat it immediately after combining the ingredients — or for more of a cheesecake texture, let it firm up in the freezer for 30 minutes. Photo and recipe: Taylor / Food Faith Fitness
18. Chocolate Banana Pops (5 g protein)
A great source of potassium, bananas are a healthy choice for a little after-dinner indulgence. The protein powder and coconut oil shell couldn't be easier to whip up, either. Drizzle some melted almond butter on top if you're feeling fancy. Recipe: Food Network
19. Protein "Brookies" Cookies (7 g protein)
If you can't choose between cookies and brownies, get the best of both worlds with this inventive dessert mash-up. Remember to use a brand of almond butter (or DIY if you can!) that's on the softer side so your dough has the desired consistency. Photo and recipe: Lee Hersh / Life by Daily Burn
20. Peanut Butter Chocolate Chip Protein Cookies (9 g protein)
You'd never guess these chewy cookies are gluten-free. A pinch of salt will complement the peanut buttery taste, so don't forget to shake a little on top before forming dough balls and popping them in the oven. Photo and recipe: Lee Hersh / Life by Daily Burn
21. Chocolate Peanut Butter Fudge (2 g protein)
At only 85 calories a pop, you don't have to feel guilty about having one (or two!) of these bite-sized cups. Blend up the ingredients in a food processor, freeze the fudge for an hour and voila! Dessert is served. Photo and recipe: Perry Santanachote / Life by Daily Burn
Originally posted February 2015. Updated April 2016. 
Not a Daily Burn member? Sign up at dailyburn.com and start your free 30-day trial today.